Did you know that water waves are still a trend this summer? We will tell you how you can get waves with a natural effect without leaving home. Attentive!
Index
Although the summer has been made to beg, we already have it here! We can finally enjoy the sun rays or the fantastic days at the beach and, of course, those summer looks that we have missed so much during the winter also return . And not only we refer to clothing (as well), but we're talking about another kind of beauty trends , such as the hair .

The waves water with a surfer touch of beach were one of the hottest trends last summer. Many celebrities and influencers signed up to wear wavy hair, both in their street-style, like on the red carpet and even on the catwalks.

But, the waves to the water are not only super flattering, but they are very easy and fast to do yourself at home . However, what we like the most about this hairstyle is its natural result, do you know how to achieve it? We tell you in 5 different ways!
First of all, you should know that you have the hair you have, you can make the waves to the water with a natural effect, since they are easily achieved in all types of hair and, in addition, they are perfect to give a little volume to our hair .

For all these reasons, beach waves have become one of the favorite hairstyles in recent years. With them we get a casual and natural look but, above all, very, very sexy. Do you want to make some surf waves at home? Get out a pen and paper and take notes!
1. Waves to the water with the iron: how to do them in a short time?
The first thing you should do to get natural waves is to prepare your hair . To do this, we recommend that you wear it clean because, in addition to avoiding a caked effect, it will look much more beautiful. Therefore, before getting to work with the iron, we recommend that you wash your hair with your usual shampoo and then apply the conditioner from the middle of the hair to the ends. Leave it on for 2-3 minutes, then rinse it off with plenty of water.

To achieve a surfer waves effect from the wash, we recommend using a specific shampoo like this one from TRESemmé, its Perfect Waves (IM) model adds body to the hair and gives it a curly appearance with volume. Available on Amazon .

Once you have washed it, dry it well and make sure that you are removing all the moisture, since it must be completely dry to be able to use the iron . Before using the iron, we advise you to apply a thermal protector to the ends of your hair to prevent the high temperatures of the iron from damaging your hair, these are the best rated on the market:

GHD
Revlon UniqONE Thermal Protective Spray , moisturizing thermal protector
Schwarzkopf OSIS +, Thermal protector
At this point, you have to divide the hair into two parts so that you can style first one half and then another. Take an iron, preferably a thin plate and start making the waves, but for this, you must take into account:
Don't start at the root. Starting from the top of the hair will make what were going to be beach waves, turn into ringlets. Therefore, we recommend that you leave a little space from the scalp and focus on the lengths of the hair, leaving, more or less, about 8-10 centimeters of distance. This way you will get a much more natural effect! You can easily make water waves , even if you have short hair, such as the Bob cut , long Bob or medium hair.
If you have straight hair, try to hold the iron longer while you wave , without rushing! In this way you will prevent the waves from dissolving quickly and you will endure more.
Once you've done your waves, you can apply a little hairspray or hairspray to your hair . eye! But without abusing it, what if we will not achieve the opposite effect.
These are the hair straighteners on the market that will give you the best results when it comes to creating your surface waves:

Imetec Bellissima My Pro Beach Waves,
CKeyin surface wave iron, Furiden professional hair curler for water
waves, hair straightener and curling iron professional 2 in 1© Pinterest
2. Water waves with spray: get natural wavy hair with a home remedy
A natural method with which you will not damage your hair and that you can also do it yourself from home is by creating your own homemade seawater . Of course, first of all you should know that the effect of this method is much more humid and it will seem that you have taken a pleasant bath in the sea, and it is beautiful! These waves will have a very flattering surf touch.
For this you will need a plastic spray container so that you can fill it with the magic mixture made from:
A glass of hot water
A teaspoon of salt
One teaspoon of gel
One teaspoon of hair oil. One of our favorites is coconut oil, since it is totally recommended for damaged or delicate hair.
Once you have the mixture ready, wash your hair with your usual shampoo and, without drying it, spray your hair with the prepared mixture . We recommend that you let your hair dry in the open air, naturally and avoiding the dryer, in this way the effect will be ideal. You'll love it! However, if you don't want to make a homemade product, you can buy some special hair for waves. There are many brands and for all types of hair, these are some of the most effective:

Da'Dude Da 'Salt Water Spray – Spray for superficial waves
Kemon-Spray
for curly hair Sea Salt TIGI Catwalk Curls Rock Amplifier – spray for curly hair© Pinterest
3. Waves in the water with a bun: super natural!
Yes, yes, it is as easy as pulling a high bun before you go to sleep . As a tip, make sure that the bun is quite pulled and collect the hair with a narrow elastic so that it does not leave marks ( these work perfectly ), and go to sleep! When you get up, take off the bun and gently dissolve the waves with your fingers. This method is recommended for long hair or medium hair.Discover: Hairstyles 2018: we review all the hair trends that triumph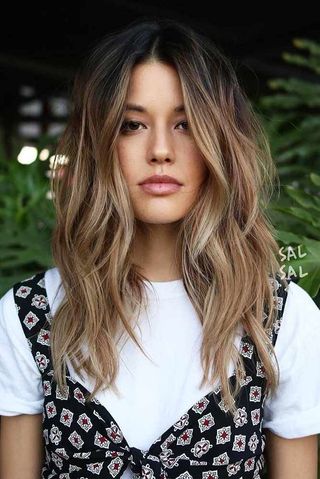 4. Water waves with braids: the most effective method for long hair
It is a very simple way to achieve natural waves and, also, very similar to the previous one. Simply, before going to sleep, you will have to wash your hair and, without drying it, divide your hair into two equal parts and make two braids . Spend the night with them and the next day … voilà ! You will have super natural water waves. And without damaging your hair!
5. Waves to the water with clips: ideal for short hair!
Making water waves with short hair can seem like a challenge, but don't worry, we have the perfect, fast and effective method: with tweezers . What does it consist of? Very easy! After washing and drying your hair, you have to divide your hair into many small strands. When you have it divided, we roll each strand between two fingers and, once we have it rolled, we hook it with the tweezers ( get a pack of tweezers at Amazon ).

Let it dry for a couple of hours and then remove the tweezers and detangle the hair with your fingers. This method is optimal if you have short hair, as it can be a complete challenge for people with long hair or a lot of hair.
Now you know 5 different ways to get natural waves to the water, what are you waiting for to show off the hair of the season? Easy, fast and natural! You will raze!