If you are one of those who always complains that your hair does not have volume, you have little hair, your hair has hardly any movement, your hairstyles are not as showy as you would like, we give you 8 ideas of hairstyles for little and fine hair that will be your salvation.
Index
If you have fine hair, surely every morning you fight with it trying to get volume and shape, and you have come to wear the most outlandish hairstyles to make it look something fluffier than usual. Well, you don't have to keep fighting, listen to your hair, and above all, look at many of your favorite stars, because believe it or not, many have fine hair and that does not condition them to look great manes or hairstyles that are trend.
Before we start … Not only the type of hairstyle is important to give volume to the finest hair, the products we use are essential to make hair not weigh and maintain volume for longer. Hair care begins with the shampoo, choose one free of parabens and silicones, they damage the hair and make it look finer. We recommend FORBALD fortifying shampoo or Tahe volumizing shampoo for oily hair . After washing your hair, blow dry it with the head down, it will give an extra volume. Then apply a volumizing spray , it is a very effective product to maintain your hairstyle and achieve a stronger and more abundant hair effect:
1. Hairstyles for little and fine hair: Neat midi hair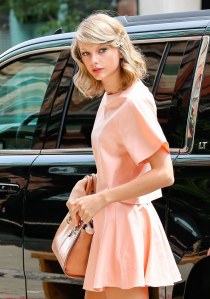 The midi hair has become one of the terms and trends in recent seasons. Neither long nor short, this length is sweeping the world of celebs for its versatility . If you opt for a polished midi hair, making strategic waves in the locks close to the face or at the ends, as Taylor Swift does, you will give your hair more volume. If you choose to wear straight hair, you will also be able to give your hair more volume , since the shorter your hair is, the more movement and volume you will achieve.
2. Hairstyles for little and fine hair: High bun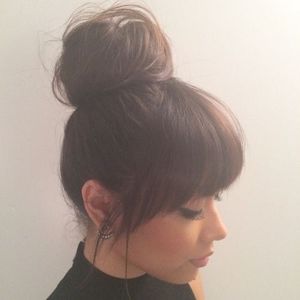 The classic fine hair, the feeling of a clean and slightly tight updo, will not cost you anything, and in this way, you will be able to focus attention on the chestnut of your bun , to which you can give texture and volume, either by cardigan or helping you with a texturizing product.Is the high bun impossible for you? don't worry, here's a little help
3. Hairstyles for little and fine hair: Pixie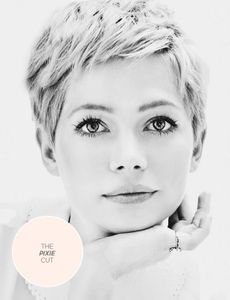 The always chic pixie is one of those cuts only suitable for girls with fine hair , so congratulations. Take advantage of the qualities of your hair and pass the scissors. In addition to being very comfortable, you will save on time and products. Whether it's a closer cut or a longer one, bring the pixie to life with Audrey Hepburn-style bangs , and have a new look every day.
4. Hairstyles for little and fine hair: Wavy midi hair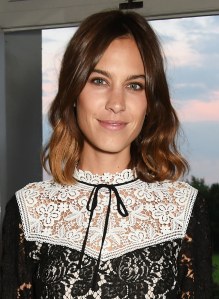 As we have already told you, the midi hair is a must have this season . If you are already one of those who have made the visit to the hairdresser, explore all the options of this cut. Whether you leave your hair with soft waves or if you prefer strong curls, the volume of your hair will increase .
5. Hairstyles for little and fine hair: Braid tousled effect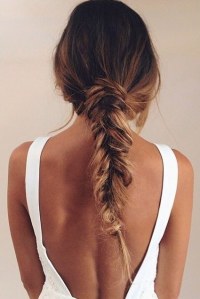 Again the tousled effect has the solution . Braids can be very simple or very elaborate, the level of complication is up to you. The key here is that once your braid is finished, take out some strands and make it look like a very natural hairstyle. Give that fluffy look to the braided part of your mane . The low braids will be of great help since you can remove strands from the upper part to achieve that volume both in the braid and in the rest of your hair.
6. Hairstyles for little and fine hair: Bob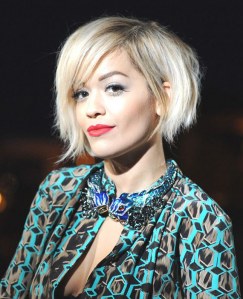 The bob cut came into our lives a long time ago, but it does not abandon us, it reinvents itself . The now mythical hairstyle below the ears, either parted on one side or parted in the middle, will make your hair have more volume .Discover: Bob cuts: the best ideas to inspire you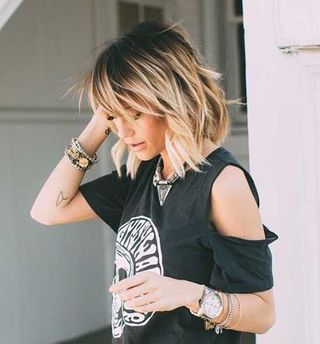 7. Hairstyles for little and fine hair: Tousled effect ponytail with volume up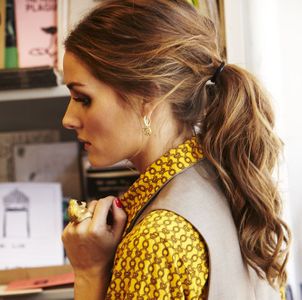 The ponytail, in addition to being one of the simplest and most comfortable hairstyles, can become an off-road look that gives your hair a very distinguished touch. If your hair is fine, the tousled effect is going to become one of your secret weapons . Create some volume at the top of the ponytail, and then gather your hair leaving the elastic slightly loose, this will achieve the acclaimed messy effect . Pull out a few strands for a scruffy touch . If you also add some fluffiness to the ponytail, the optical effect of a greater volume will be a success.
8. Hairstyles for little and fine hair: Asymmetrical Pixie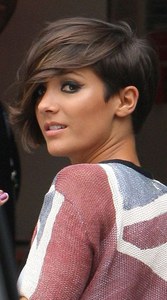 And within the pixie , do not forget about the cuts with a longer side. These types of hairstyles allow you to play a lot since we add long strands to the comfort of short hair that work like bangs and that allow us to create different looks. Set and texture the locks and the volume will become a reality.
As you have observed, nothing like experimenting until you find the cut and hairstyle that best suits your face and your hair type. Of course, if your hair is fine, what you should not do is leave your hair very long and on the sides of your face, since the longer it is, the more fine and straight hair you will have. You know, nothing like cutting .