Balayage highlights have been the star trend for several summers. This summer has been going strong in Bob cuts. Do you join this trend?
For yet another year, balayage highlights continue to be the star hair trend. As we already know, balayage is the hair coloring technique that keeps the roots darker than the ends. A very natural gradient is sought by applying the color from the middle to the ends, bringing light to the face. They are ideal for both a "classic bob" and a " long bob " but, regardless of the length of the hair, this style gives a lot of light and harmony to the face.

This year only the most daring will dare to cut their hair and show off their balayage highlights with the hairstyle of the season, the bob cut. That haircut with a length between the ear and the shoulders that celebrities and models from all over the world have worn this year.Discover: Bob cuts: the best ideas to inspire you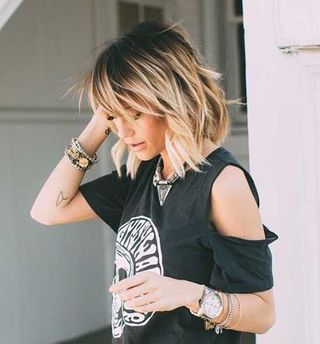 Balayage highlights according to your hair color
It is common to think that balayage is not suitable for dark hair but not at all! If you are very dark, all you have to do is use a bleach under the dye so that the color does not fade quickly. If you dare to try it, the result for brunettes is warm and vibrant!

However, balayages are perfect for blonde girls, it is where these types of highlights are most natural and you cannot stay without wearing this wonderful look.

If you are one of the few who have red hair and want to dare with a makeover , we highly recommend balayage highlights. Of course, it is better to go to a coloring specialist so that the tips are not too blonde.

Whatever color you have, if you dare with the most radical trend, you can make them with more striking colors such as pink, blue or green. We love!

Tips for doing balayage highlights at home
If you are one of those girls who do well on their own and you dare to do them at home yourself, we are going to give you some tips so that your bayage is worthy of a hairdresser: Be

patient and select small locks so that they are well defined. The result will be much better

Try to make the gradient subtle. Start with the ends and work the product upwards very carefully. It is better not to start the other way around so that the cut is not noticeable. If you do this, there will be little product between your fingers and the wick will appear more natural. If you don't feel very comfortable doing it with your fingers, use a paintbrush.

In relation to the previous point, if you want it to be even more natural, raise the wick as much as you can. Thus, the color of the wick will blend with the natural tone of your hair.

If you want a shade much lighter than your natural hair, bleach it but carefully. Use bobby pins and tweezers to avoid staining other strands of hair.
If you want the ends to be lighter and your coloring to be more striking, first make the highlights with dye and apply a bleaching technique on the ends.