The burgundy color is one of those that continues to triumph season after season. Its mixture of reds and oranges make it one of the most desired fall colors in fashion, decoration and even beauty. We give you the best tips and our favorite products so that you can succeed with the trend color.
Index
When temperatures drop it is time to return to dark colors , to leave behind the bright colors that have been the protagonists of our summer and to get hold of all these burgundy tones that the new season brings us. But don't worry because they are anything but boring! Take note: autumn is dyed burgundy and with it also our makeup. Eyeliner , shadows , nails , of course the lips and even the eyelashes! Give free rein to your imagination, combine and create the most flattering looks. Leave fuchsia pinks and oranges behind and welcome dark tones that do not go unnoticed.
Burgundy is an intense color and one of the favorites of designers of both fashion, decoration and beauty. A color full of elegance and sophistication, perfect to also add to your makeup routine.

Of course, do not forget that to achieve the best results and especially if we are going to use dark colors, preparing our skin becomes more necessary than ever . For dark shadows, set them and achieve a more intense hue with a primer . Lips and deep tones can also be challenging, they can be patchy and leave an uneven hue. So that this does not happen, remember to hydrate them well and exfoliate them once a week .

Another thing you have to take into account is balance : if you are going to give your lips a lot of intensity, then bet on more discreet eyes. If, on the other hand, what you are going to enhance are the eyes, give a lighter tone to the lips.
One of the best things about burgundy in makeup is that it combines very well with any type of eyes. It does not matter if you have green, brown, black or blue, burgundy is the perfect color for all. To give you an idea, his popularity in recent years has increased his search on Pinterest by up to 65%. Burgundy makeup, especially in the eye area, continues to be worn, and that is why we want you to go with the latest trends, we will show you some ideas.
5 ideas to make up your eyes with burgundy
Shimmering shadows
Brighten the eye with a burgundy color. The shimmer shadows are perfect for the darkest winter looks, giving depth and luminosity to the eyes. Also, if you are usually a lover of 'brilli brilli' you will love this option. You can give this makeup a shiny shadow both in different shades of burgundy and in silver or gold finishes. It is very easy and simple to do, since the glitter can be incorporated directly into the eyes by tapping or opt for a burgundy shadow that already has shine.
In gradient
The gradient is one of our favorite combinations. First, add mascara to your eyes, then do the eyeliner, and enhance the look. Once you have these steps, use an eyeshadow primer to make it last much longer. Start by first adding an eyeshadow in a very light color all over the eyelid, then include a little glitter shadow around the lacrimal area to intensify the look. At each end of the eye go making the gradient little by little. First add a light burgundy shadow, and then add a darker one. If you have small eyes, this gradient is perfect for you as it will intensify your look.
Smoky eyes
Smoky eyes are one of the options we use the most for night makeup. Any option with a smokey eyes is perfect to succeed this season. Innovate, and put aside the black that we always use in this technique and take a risk with a burgundy color. It is much more daring but if you wear a look for example in black, you will make your outfit stand out much more.
Waterline
If you prefer not to risk with a burgundy color all over the eye, the ideal is to opt for the water line. One of the most different options is this, since it will give more color to the look and without overdoing it. Try to include two shades, one above the eye, and one below.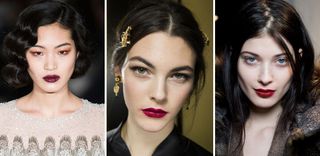 Our current favorites in burgundy
Now that you know the great secrets for its application, we will tell you all the news that the main beauty brands bring us this new season. So read on and grow your fall beauty bucket list.
Rouge Volupté Shine, by Yves Saint Laurent. It is the perfect burgundy. It has a creamy finish, an intense and long-lasting color. Combine it with a marked black eyeliner and you will get a spectacular look. You can buy it at Sephora .
The Burgundy Bar, Maybelline New York . Eye shadows in the full range of bright burgundy tones. You can buy it on Amazon .
Superstay Matte Ink , shade # 45 Scapist. Its highly pigmented color lasts 24 hours intact, you will not find such an intense color, with such a matte finish. You can buy it on Amazon .
Phenomenal Woman dark purple by Mac. It is a beautiful burgundy shade ideal for fall. In addition, it is from the special edition of Rossy de Palma for this brand and has a packaging that is pure glamor.
Lip Color Plum Berry from La Biosthétique . It is a lipstick enriched with vitamin E, a powerful antioxidant that also provides firmness to the lips. Its nourishing substances protect the skin and hyaluronic acid provides hydration. All this with an intense color and a creamy and smooth texture.
Everlasting Lip Liner in the shade Vampira , by Kat Von D. When we use lipsticks with dark tones, it is essential to outline the lips well. This step allows us to have a more intense, crisp and perfect finish. This eyeliner, in addition to having an intense color and a fine applicator, is waterproof and lasts throughout the day. You can buy it at Sephora .
Luxe Lip Color by Bobbi Brown. Limited edition lipstick that will be available from November. Under the name Caviar & Rubies Bobbi Brown gives us the most festive looks. It is a lipstick that is moisturizing, has a high pigmentation and achieves an intense finish with a single pass.
Perfect Stay , by Astor, shade 630 Intense Bordeaux, brings the most intense burgundy color to your nails as well. You can buy it on Amazon .
Lip Shadow Cushion Matte Lip Powder, by Clinique. The cushion format has also reached lipsticks. Its application at the tip of an antibacterial sponge allows a modulable intensity and a uniform tone. You can buy it on Amazon .
Highliner Jazzberry , by Marc Jacobs Beauty. But this trend not only stays on the lips, the eyes also join the burgundy color. This textured eyeliner in gel format provides a pigmented finish ideal for drawing the eyeliner with a very flattering tone that will enhance green eyes.
V for Volume by Sephora. The eyelashes are also colored! This mask in particular, in addition to giving that original tonality, provides volume and extension to achieve a more defined look. You can buy it at Sephora .
Desert Dusk by Huda Beauty. It is a palette of warm tones that ranges from matte burgundy tones to the most impressive tones in a glitter finish. It is the perfect option to get from the most natural makeup for the day to the most striking for the night. You can buy it at Sephora .
Naked Heat by Urban Decay. Color your lids with twelve amber tones including shades of brown, orange and temples to create any type of look. You can buy it at Sephora .
And to finish the look, color your nails too! This is the Mini Macaron (€ 12.95) semi-permanent nail polish . In addition, its formula is a three in one: it is base, color and top coat. All in one step!