When summer begins we want to be ready to wear a hairless legs. It is time to prepare and remove hair permanently so that in the hot months, you do not have to worry. Hair removal with intense pulsed light (IPL) is a great option for all those women who do not want to waste time going to wax, since you can even do it yourself at home. We tell you what this technique consists of and how it works.
Index
Tired of waxing or waxing? A good idea is to resort to long-lasting hair removal techniques. The photoepilation and the laser are some of the techniques that allow to finish with the hair from the roots and much longer. You can go to a specialist or simply do it at home. Although they are very similar hair removal processes , there are big differences between them. And since it is very common for them to get confused, we want you to know in detail what it consists of and how you can use them. You want to know more?
Differences between photoepilation and laser hair removal
One of the big differences between photoepilation and laser hair removal is that the former can be done at home and throughout the year. Also with laser hair removal you will need to go to a specialist while photoepilation can be done at home with a pulsed light epilator . Epilators with pulsed light allow you to select the type of skin you have and tailor the hair removal to your needs. While laser hair removal is most effective for darker hairs in contrast to fair skin, photoepilation can be done for all skin and hair types. Whether you are blonde or have brown skin, with IPL hair removal you can say goodbye to those little hairs forever. However, laser hair removalIt is much more general and you should always try to go when you do not have tanned skin. Although it is true that more and more centers have incorporated techniques that allow hair removal even in summer, still always inform yourself.

Another difference of both hair removal techniques is that with photoepilation you will need many more sessions than with laser hair removal. This is possible since the light wave that is emitted in laser hair removal is punctual and burns all the hair to its roots. However, although the laser is more effective, it is not indicated for sensitive skin . The waves they emit are somewhat more painful as it burns the hair down to the roots. If you have much more delicate skin, it is best to opt for photoepilation and pamper your skin at home.

An important aspect is the color of your hair. In the event that you have very blond hair or very sensitive skin, the ideal for you is photoepilation , while, if you have darker hair, better try laser hair removal and you will see how the hair will weaken from the first session.
What is intense pulsed light hair removal?
The hair removal intense pulsed light , also called depilation , differs from laser hair removal (although many people mistakenly think that they are equal) by the type of technology used. With IPL , what is used is a polychromatic light (that is, of various colors) to remove the hair follicles, while in laser hair removal the body hair is removed through a system of monochromatic (single color) light .

Furthermore, the light emitted is not a continuous beam, but is applied by light pulses, as its name suggests. These light pulses cause an increase in temperature in the areas with more melanin, especially in dark hair, so that the root ends up burning like the laser. Therefore, it is a perfect technique for white skin with dark hair, as the difference in melanin is very noticeable.

However, it is a system that can be adapted to many phototypes and conditions , thanks to its variable wavelength, so blonde hair can also benefit from the advantages of this type of hair removal. Of course, its effectiveness will always be greater the lower the phototype.Discover: The famous women with the most beautiful legs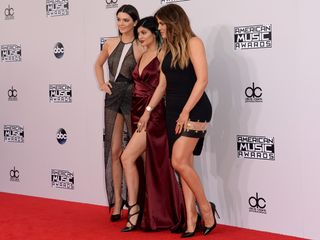 © Getty Images
Advantages of hair removal with intense pulsed light
It is a long-lasting and effective treatment to completely remove hair .
You can remove facial hair in each session little by little. Of course, try not to pass the epilator through areas such as the eye to avoid any type of eye problem.
Possibility of applying it comfortably at home. Another advantage of this type of hair removal is that you not only have to do it in a beauty center, since there are different devices on the market that allow you to do it at home in a comfortable, simple way, and much cheaper!
Maximum security and without risks. Whether you choose ipl hair removal in a beauty center or if you choose to get one of the machines for personal use, it is a totally safe technique without risk to your skin or your eyes. In addition, ipl epilators usually include a skin color sensor that causes that if the skin color is not suitable, the system is blocked, preventing us from damaging the skin if we choose an inadequate power, and a pressure sensor that prevents the machine will work if it is not resting on the skin, which avoids accidental light shots.
Greater spectrum of hair colors that can be treated. Of the 6 existing skin phototypes in the world, this system is capable of covering 4, and up to 5, in some models.
Precise, fast and effective treatment.
Post-session care
After each session it is advisable to follow the following tips:

Avoid sun exposure for the next 10 days : as with laser hair removal, the skin is more sensitive than normal and can burn much more easily, so it is necessary to wear covered areas, and if it is the face use a sunscreen of 50 SPF. We recommend using a special cream for sensitive skin, especially reactive to the sun, such as the Anthelios de La Roche Posay model, which is available on Amazon for € 15.64 .

Use soothing and moisturizing creams and gels : to take care of the skin between sessions it is advisable to use Aloe Vera or some other soothing and moisturizing product. These are the most effective:
Aspects to consider
In general, almost everyone can use both hair removal techniques. Even so, whether at home or in a clinic, always inform about any type of disease or sensitivity in the skin that you have. For example, pulsed light hair removal is not indicated for skin that is too young and pregnant women, as well as people who are taking some type of photosensitizing medication.
Photoepilation at home: our recommendations
If in the end you have decided to try photoepilation at home, you must have a device that pampers your skin and is very easy to use. Choose an IPL hair removal device that offers you a series of guarantees, such as that it includes security sensors, or that has a quality signature behind it that gives you maximum confidence. 

Don't you dare because you have darker areas such as the areas most exposed to the sun or the bikini line and armpits? Braun Silk-expert IPL has a system of intelligent sensors that read the skin tone 80 times per second , automatically adapting the appropriate light intensity to make the treatment effective and safe.© AmazonBuy from Amazon for € 157.99
The Braun Silk-Expert IPL pulsed light epilator is not the only option available on the market for permanent hair removal at home. These options also have very good reviews from users and you can receive them tomorrow at home to show off hair-free skin:
DEESS Intense Pulsed Light Hair Removal System: its effectiveness is proven to be 90% after 6-12 sessions. The lamp achieves 350,000 flashes of light and has a useful life of three years. Buy on Amazon for € 109.99 .
Braun Silk-Expert Pro 5, the latest generation pulsed light epilator : visibly reduces hair after 4 weeks. It has 400,000 flashes of light. Its intelligent pulsed light technology (IPL) with SensoAdapt skin sensor (with UV protection) and optimal pulsed light technology (IPL automatically and continuously adapts to your skin tone. The Braun Silk-expert Pro app will help you to track and plan your hair removal for incredible results. You can buy it on Amazon for € 319 .
Philips Lumea Advanced, pulsed light epilator : 250,000 light flashes, effectively adapts to dark blonde, brown and tan hair. You can use this epilator with total safety on both body and facial hair, thanks to its integrated filter. You can buy it on Amazon for € 366.99 .