Advances in science and genetics are getting more and more amazing. And it is that, far from family inheritances, you can change the color of your eyes as you want. If a few years ago the last novelty on the market were colored contact lenses, now there is a more durable and more effective method. Do you want to know what it is?
"When you meet a person, what do you look at first? " Faced with this question so common in conversations in all parts of the world, it is likely that more than one will answer that in his hands, in his ears or in his hair . But, above all, in his eyes. Blues, greens, browns, grays … Although there are few eye colors that exist and to which we are accustomed, the intensities of their purity and their combinations are multiple, factors that make them one of the main attractions of any mortal.

It is also true that an eye colorspectacular is insignificant if it is not accompanied by a powerful look. Then there are exceptions such as Elizabeth Taylor, who had the great luck to unite both virtues in beautiful violet eyes always covered by a marked black eyeliner. If this is not your case and what you need to achieve happiness (or simply on a whim) is to radically change the color because you cannot find the makeup that suits you the most or you are not convinced by any to enhance your look, there are several solutions.Discover: Attentive to the eyes! How famous are you according to your look?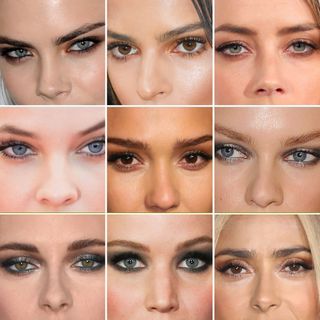 © Getty
You probably know the first one: colored lenses. Yes, years ago they became fashionable and some famous people joined the trend, the most popular being the versatile Marilyn Manson . Among the celebrities who have used this eye accessory in recent years are the Kardashian sisters , who change the color of their irises at will according to their public agenda, that is, from going to a gala to going shopping in Paris. Because that is the quality of colored lenses, which allow a temporary and completely reversible change.

However, if what you are looking for is to indefinitely have the same look as Ana de Armas, Jennifer Aniston, Irina Shayk or Sharbat Gula herself , who carried one of the most iconic covers of National Geographic, the best thing is that you opt for surgery. Ah! And since wanting is power, the inescapable requirement for this transformation is that you have 7,200 euros!