The mane of a woman is the jewel in the crown, our sign of identity and one of the characteristics that most defines us. Therefore, when our hair is not going through its best moment, the solution is not to hide our head in the sand like an ostrich, but to face the root problem.
Index
The fall of the hair is a problem that affects many women, especially in autumn and spring , but the fact that it does not imply a common problem to be ignored. Finding some hair in the brush after combing our hair, in the shirt or in the shower after washing our hair is normal, which is part of the normal hair renewal process, but when does a normal loss become something to worry about? ?
The causes that cause it, the tricks to avoid it or the products that help you prevent it … We will tell you everything you need to know about hair loss , but do not forget that a good hairstyle can help you hide the hair loss, do not miss these that will take only a few minutes to perform.
Causes
Part of the problem of hair loss is that we do not usually identify the causes that produce it , so we continue to maintain the same habits, without being able to stop it properly. Is it stress , a lack of a specific vitamin or nutrient, or is it hereditary ?

There is no specific trigger for each person, but there are several factors that influence hair loss , and that combined can cause this loss to exceed the limits of what is considered normal.

The main causes are:
Stress
Hormonal causes / menopause
Diet (what we eat regularly or sudden weight changes)
Disease
Side effect of any medication
Pregnancy and childbirth (even 2 to 4 months after delivery)
Hair habits (excessive use of styling products or heat tools)
Smoking
How much drop is normal?
Some days just by moving the head we notice how several hairs fall out, especially if it is freshly washed , but losing an excessive amount on a daily basis is not normal, so we must be attentive to any alteration in the normal cycle of our hair.

On average, it is common to lose 50 to 100 hairs per day (don't worry, we have more than 100,000). However, if the hair begins to fall out in greater quantity, or in small strands instead of doing it in isolation, it may be a sign that something is not right, and it is advisable to go to a dermatologist .

In short, the most important thing is to control the amount of hair we lose daily in the shower, brush or pillow, and at the first sign of an increase in that amount, see a doctor to discover the causes of this excessive fall.
How do stress and diet affect?
Stress is one of the main causes that influence hair loss and in the last decade there has been a significant increase in the number of people affected by this reason.

And, a high level of stress can act as a trigger and cause an alteration in the normal cycle of hair growth . Identifying a specific stress situation that causes hair loss can be difficult, but it has been shown that acute and chronic stress can lead to problems such as genetic hair loss , telogen effluvium (occasional hair loss ), alopecia areata ( alopeciacentralized in a specific area) and trichotillomania (impulsive hair-pulling behavior).

For its part, diet also plays a crucial role in preventing hair loss , since when drastic weight loss occurs, our metabolism changes and there may be an increase in the amount of hair we lose daily.

In addition, eating little or infrequently can also trigger massive hair loss, due to a lack of energy in the hair follicle. A protein deficiency can also cause hair loss , as hair fibers are 80-90% protein .
How to prevent it?
As we have just seen, stress and diet are two of the most important factors to consider when preventing hair loss . With the hectic pace of life that we lead today, avoiding any type of stress can become an almost impossible mission, so the most important advice we can give you is that you take a few minutes of the day for yourself, and learn to cope to daily problems with a positive attitude.

However, food is something that we can take care of in a very simple way, and incorporate the necessary foods to prevent this problem. A diet rich in protein (meat, fish and legumes) will help strengthen the hair fiber, preventing it from falling out .

The Green leafy vegetables are also beneficial due to their high iron content, as well as foods rich in B vitamins , such as eggs, oats, and soybeans.
When to seek medical help?
Going to the doctor for a problem related to beauty may seem a bit crazy, but a problem as "banal" a priori as hair loss can be a possible symptom of a more serious health problem .

This does not mean that we have to become alarmist. Hair loss affects 60% of women throughout their lives , but it is important to recognize when this loss is out of the ordinary, and consult an expert on how to stop it in each specific case.

Whether it is due to lack of iron, stress or diabetes , the important thing is to identify well what is causing that fall and act accordingly.
Products that will help you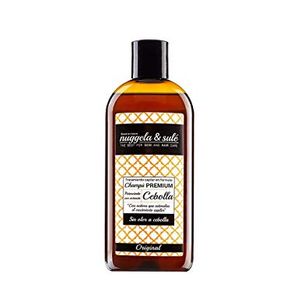 Fortunately, the beauty industry can also help us in our battle to stop hair loss , thanks to specific care products. Our favorites? We show them below.

Nuggela & Sulé Premium Shampoo With Onion Extract : surely you have already heard about the properties that onion has when it comes to strengthening and stimulating hair growth. Nuggela & Sulé's onion shampoo has been a top seller for years due to its multiple benefits: it encourages hair regeneration, controls oiliness and adds shine to hair. Contains onion, Dead Sea salt extract and marine glycogen. Buy on Amazon for € 16.95 .

FORBALD – Anti-hair loss shampoo with vitamins– This shampoo is one of the best rated on Amazon when it comes to fighting excessive hair loss. Contains vitamins, Kopexil and keratin to strengthen hair from the roots and prevent it from weakening and falling out. It does not contain parabens or dyes. Buy on Amazon for € 11.90 .

Phyto – Vitamin supplement for hair and nails: Contains vitamin E, C, B2, B6, Zinc, yeast and biotin to strengthen hair and prevent hair loss, giving it body, volume and strength. Each bottle contains 120 capsules, the manufacturer recommends a daily intake of 2 capsules to benefit from all its properties. Buy on Amazon for € 34.99 .

OGX – Brazilian Keratin Shampoo:the formula of this shampoo contains ingredients such as coconut oil, keratin protein, avocado oil or shea butter that help strengthen hair and give it shine for a healthy appearance. Sulfate-free for hair care. Buy on Amazon for € 7.90 .

SanaExpert Haar Forte, Hair Supplement for hair : contains natural and high-quality micronutrients that are important for the care and roots of the hair, thus combating hair loss. With natural Pearl Millet in combination with Biotin, Pantothenic Acid and Zinc. 100% natural ingredients. Contains 120 capsules, take 2 each day to notice results. Buy on Amazon for € 24.90 .

VidalForce Hair Loss Shampoo: contains Saw Palmetto (Natural alternative to minoxidil anti DHT), arginine with a vaso-dilating effect, coenzyme Q10, avocado oil with vitamins E, A, B1, B2, B2, B3, D and C, Ginseng and vegetable proteins, powerful ingredients natural that will strengthen the root of the hair and prevent its excessive fall. Buy on Amazon for € 14.99 .
If you feel that your hair loss has become worrisome, first see a dermatologist to help you determine what is the cause. If you notice that hair loss is something that happens especially in seasons like spring or autumn, don't worry and start taking care of factors such as your diet or the products with which you take care of your hair.