Have you ever bought a product that was presented so beautiful that you were embarrassed to open it? We are talking about bags, boxes, ties and personalized packaging, of authentic design, worthy of exhibition or collector's item.Index
Just think of Christian Louboutin manicure sets , Vuitton bags, Tiffany blue boxes, or even Jonnie Walker specialty whiskeys. Let's go over some of the most recognizable designs and discover one of the companies behind it all.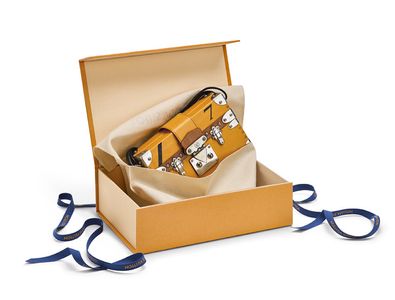 This is luxury , you always want to shine whatever you do. The most desired firms work with each of their buyers not only with an imposing product, but also with a ten presentation for said product. Chance does not exist, we speak of professionalism and an advertising medium that despite the years, continues to work.

It's funny, advertising has changed a lot, it is increasingly integrated into the content and many times it is even difficult for us to detect it, but packaging continues to play the same game forever, elevates the shopping experience, lasts over time and spans the space without any control. It is logical, if they give you a Chanel perfume, you will most likely keep the bag in case you have to transport something some day. It's pretty, good quality, and let's face it, it's glamorous. Hence, thousands of euros are invested in designing packaging, probably every day you come across several people on the street who carry beautiful bags with content that has nothing to do with what is in the bag. That's part of the trick!
The packaging is an essential tool for materializing a good brand experience and establish a connection with the audience. What can we do if we love undoing ties and opening packages. Among our favorites are:
Hermes
From Hermès you would collect everything, we know. His orange boxes are kept for decades in his fans' closets. Some use them to put scarves, others to keep underwear inside the closet and some like the Japanese illustrator Shinsuke Kawahara to decorate their apartment.

Do you know why they are orange? During World War II, the simplest paper Hermès found to wrap its products was orange, so it had to forget its original beige. Since then it has never been modified.
Jo malone
Each of the products of the English perfumery Jo Malone is prepared after a ritual. Tissue paper is first scented with Lime Basil & Mandarin, wrapped and stored in a cream-colored box. To finish the black tie with the name of the brand. It does not lack detail!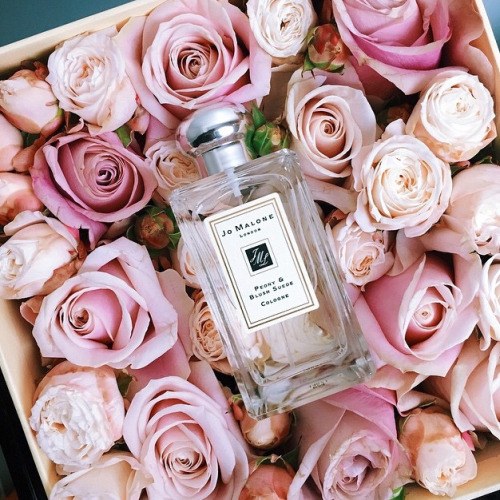 Tiffany
Among the most famous is the Tiffany packaging . The blue color of their boxes and bags is Pantone P1837 and is called Tiffany Blue.

The origin of this stunned blue color is due to the fact that in 1845, the founder of the American jeweler Charles Lewis Tiffany, decided to choose this color for his annual catalog, the Blue Book. Also in the 19th century, turquoise was the best-selling gem of the moment.
Chanel
Its packaging is minimalist, simple but very elegant. Voguepedia assures that the two intertwined "ces" come from a detail that Coco saw every day in the windows of the orphanage where she lived after the death of her mother. Other theories claim that Chanel herself designed the logo influenced by the original Château de Crémat emblem which also consisted of a pair of interlocking Cs. The Chateau de Cremat, built in 1906 near Nice, was owned by Irène Bretz, an American friend of Coco. Chanel. In the 1920s Coco Chanel was invited several times to the elegant receptions given by Irène Bretz at the castle.

It is one of the most recognizable symbols in the world of fashion, just like its black and white packages.
Net à porter
The luxury online shopping giant takes the cake. Once you buy you cannot stop, that feeling between happiness and nerves is not achieved by all online stores. The black, pristine packages with a strategically placed Nèt a porter bow make it clear that what they hide inside is not a trifle. Minimum will be a Chloé bag!

I know, receiving one of your packages can even cause anxiety. As you know, it all comes down to selling experiences, and luxury brands know for a while.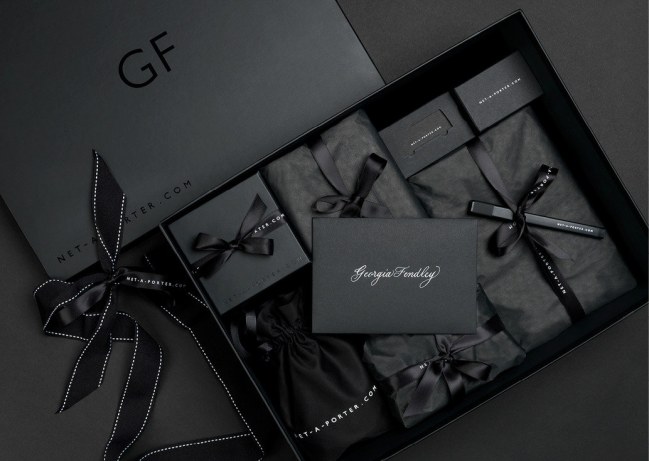 All these brands have two things in common, they strive to develop absolutely perfect packaging and some are MW Luxury Packaging clients. Chance? Of course not.

Many of the brands that we have seen have their own designers or departments to create and prepare their packages.

Did you know that there are even some awards that value packaging, they are called Pentawards ? There is no doubt, creative packaging is in the DNA of luxury brands.