Who Said Fresh Fragrances Were Only For Summer?
It is true that during the summer we opt for lighter perfumes, but the summer season is not the only time when we can use them. And it is that, in terms of fragrances, to taste the colors. We can use fresh , light perfumes with a subtle aroma, which accompanies but does not invade. And we can wear them on our skin throughout the year and on different occasions. If you are one of those who prefer soft aromas, with a sweet touch and with that certain "clean smell" so characteristic, you have come to the ideal place. We give you some ideas of fresh fragrances , what characteristics to look for in them and we tell you what occasions they fit best.
What are the characteristics of fresh fragrances?
Talking about fresh fragrances can be something very subjective and general, since no two noses are alike. But we can describe them with the sensations they transmit to us when we smell them: refreshing aromas, easy to carry, that do not cloak or saturate the smell. Here we leave you with a shopping for fresh fragrances for women that can serve as inspiration if you want to change your perfume this season .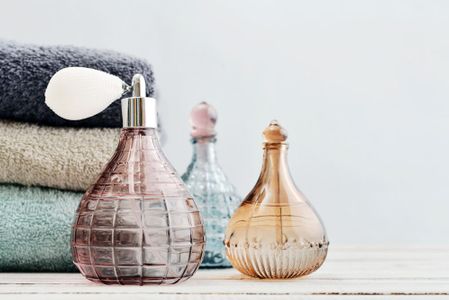 © iStock
In addition to the sensations they transmit to us, these types of perfumes and eau de cologne also have a series of characteristics in common. To find out which fragrances are fresh, you should also look at their ingredients. Normally they tend to be perfumes made in a natural way, with citrus and floral components. Among them we can find
Natural elements : such as green tea, pepper, juniper berries or pine wood.
Fruit compounds : especially citrus fruits, such as lemon, lime, orange or mandarin. Melon, nectarine, and even grapes are also common.
Floral ingredients : in this sense, the variety of flowers that we can find in fresh fragrances is quite wide. Roses, jasmine, orange blossom, peonies, white magnolia flowers, lavender or white lotus.
When to use a fresh fragrance?
As we have already said, summer or spring are not the only seasons of the year when you can put on a few drops of these fragrances. The truth is you can always use them. They are especially adapted to more relaxed moments and, above all, to those that take place during the day . Fresh fragrances are appropriate for going to the office, eating out, on a date and even for important events, such as a wedding. In fact, we recently showed you a selection of fresh and subtle bridal perfumes , two characteristics that fit very well in this situation.
For evening events, such as a dinner, a cocktail or a party, more aromatic and intense perfumes may be more in keeping with the occasion . But remember that in the end the decision is yours. The important thing is to discover a scent that you like, with which you identify and that you want to wear, whatever the occasion.

What is your favorite fragrance? If you have not discovered it yet, this perfume use manual may help you.