Having your nails groomed and cared for is important in any beauty routine. Gel nails have been staggering positions in recent years. If you are thinking of giving them a chance, here we tell you everything about them so that you can solve your doubts.
The gel nails began to become popular a few years ago through celebrities . A fashion that soon led the rest of the mortals to try this new trend. So much so, that nowadays it is difficult to go down the street in large cities and not find a manicure center where you can get them done.

An aesthetic technique that delights those who love to keep their hands always perfect , as it allows them to have them intact in terms of shape and color for much longer than with the usual manicure. If you are one of those people, then you want to keep reading about gel nails and consider whether this type of manicure is for you or not. Shall we start?
What are gel nails?
Gel nails are a prosthesis created for the nail made from acrylic gel molded on the natural nail. After several layers of base, enamel and fixative, gel nails are obtained. The drying is done through a lamp with ultraviolet light that allows the polish to adhere to the nail more quickly. Depending on the nail bar you go to and your nail they can touch up your gel nails on your base or a new one.
Technique and duration of gel nails
To begin with, it is important that before doing this treatment you prepare your natural nail well . For this it is important that you do the complete manicure, removing cuticles and giving them a rounded or square shape (depending on your preferences). It is also important to progressively wash the nails with soap and also apply a special oil to the cuticles. This option is a perfect alternative for people who have brittle, brittle, weak nails, or just bite them.

The first step is essential, because your nails will be the base that allows a good result in each subsequent layer. Once they are ready, the next step will be to place the acrylgel prostheses with a product that will fix them to your nails andput them under the ultraviolet lamp . When the acrylgel has hardened, it is time to paint them in the tone or with the design and details you have chosen. The process usually takes at least an hour and a half.

But, surely you are wondering, how long do these nails last? Well, about two months . Of course, you should go to your nail bar to retouch them every two or three weeks. This will always depend on how your nail grows. It is important that you always go to the site where you have them done, especially because you already know the products they have used and also to be able to withdraw them. It is important that you do not remove them at home as you can completely damage the nail.

Gel nails can be worn with a color in a simple way or you can also incorporate some type of design. This will depend a lot on where you go and if they specialize in doing nail designs.
Advantages and risks of gel nails
As we have pointed out, one of its main advantages is its duration: thanks to gel nails it is possible to wear an ideal manicure for a long time. In addition, compared to other previous techniques such as porcelain nails, nails in this material are much more natural , with a more shiny and smooth finish. Also, the gel is less harmful to the nail than other previously used materials. Not to mention that its price is more affordable.

However, like everything, it is important to bear in mind that it is not 100% innocuous for the nail and that it is necessary to follow some care so that they do not suffer. To begin with, it is essential to remove them in a specialized center and not do it on our own, since the materials with which it is made makes the task very difficult and you can do yourself a lot of harm. However, although it is safer for the nail to remove it in the center, it involves immersing them in acetone for at least 10 minutes, which is not the best option for the health of the nails and the skin.

Then what do I do? The best thing is that you choose a trustworthy center where you know that there are good professionals who use quality products . The latter is essential, since certain chemicals present in the liquids that are used, as well as the devices, can be harmful to the nail if they are not adequate. In addition, it is advisable not to abuse this manicure technique andLet the nail rest for a certain time so that they do not weaken . If you have a hard time wearing them without painting, in those periods you can bet on a transparent hardener polish that helps you strengthen your nails and provides a touch of shine. Although we love how they look aesthetically, remember that the most important thing is health.
The best nails bar in Madrid to get gel nails
Even if you don't like painting your nails, it is important that you take them well-cared for. And, even if you are not a fan of colored enamels and prefer to wear them natural, wearing them well-groomed is essential to make a good impression, as it is the most hygienic, as well as to improve our self-esteem by looking good. So, whether you are one of those who love to wear very elaborate manicures, or if yours are discreet nails, you will need a trusted beauty center to go to when you need it. We present you our favorites!
Maison du beauté
It is a space located on Calle Victor Andrés Belaunde 56, in the Chamartín neighborhood. It is a nail bar specialized in manicures and pedicures in which you can make beautiful gel nails, although, in addition, they have recently incorporated waxing, eyelash lifting and facial treatments. It is a small and cozy space in which you will feel very relaxed. In addition, the service is ideal and the girls are not only very nice, but they also perform the treatments with great precision and professionalism. If you have not yet found a trustworthy place in Madrid, you will not regret this site, and you will repeat for sure.

If you want, you can easily book their services through the Treatwell application . Many nail barsand other beauty centers have come to this app so you can book the beauty services you need at the time and day that best suits you. It's fast, and you can also pay both for the app and later in the center. You can even locate the center that best suits you since you can see them on the map. Do you dare to book your manicure now?
Siberia
Located on Juan de Mena street, in the heart of Madrid, is the Siberia manicure and pedicure salon . It is run by Julia and Sofía, two young Russian women specialized in nail design, so among their services we will find all kinds of manicures, such as gel nails, permanent and semi-permanent enamels, traditional manicures, French manicures , and mainly decorative designs. .

If you are one of those who dare with everything without a doubt this is your place. They have hundreds of their own designs , many of them inspired by Russian culture (such as matriuskas), but they also make any design that you ask them.to adjust to the tastes and personality of your clients and thus provide a personalized character to each job. What makes Siberia different is the precision, typical of the manicure practiced in Russia, which turns each design into a miniature work of art.
To point
A Punto is not just a nail salon, but a comprehensive beauty center where you will be pampered and cared for to make you feel at home. In fact, as soon as you enter, you are greeted by a reception that simulates a very cozy Scandinavian-style room where you will be invited to have a coffee, tea or a glass of cava .

Its specialized services include manicures and pedicures of all kinds (express, permanent, gel …), eyelash extensions , facial and body treatments, massages and waxing , as well as a double cabin to enjoy special treatments and massages in couple.

If you want to go one step further and complement your manicure or pedicure with aTemporary tattoo , you can also do it, as they have a selection of the well-known American firm Flashtat , including the special edition of tattoos co-designed by Beyoncé.
ECO by Serendipia space
This center, where in addition to manicures and pedicures you can take care of your hair and your boy's beard , is postulated as the new eco-beauty address in the capital . In a rebellious, hipster and urban environment, Espacio Eco by Serendipia seeks the most natural ingredients and products with less toxicity to improve the texture, vitality and health of the hair and beard, while offering the most environmentally friendly enamels. environment without neglecting the trends and current affairs of the world of beauty.

You can enjoy the best mani pedi without compromising your eco-healthy philosophy !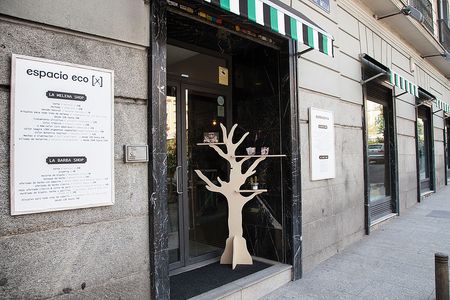 Nenha
If you are looking for a nice and cozy place to enjoy your manicure or pedicure, in Nenha you will find it. Although they also have other aesthetic treatments, they are specialized in nails , so among their services you will find a wide variety of manicures, pedicures, design nail arts, gel nails and even color therapy .

If you prefer to try any of their treatments, without getting out of hand and feet you can enjoy massages, reflexology and even rejuvenating paraffin-based treatments , without forgetting the special services for brides. Give your hands the pampering they deserve at Nenha!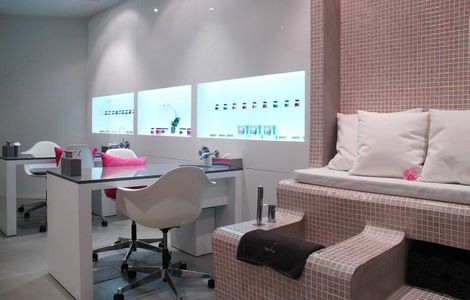 New York Nails
New York Nails , located on Jorge Juan Street, in the Salamanca district, is one of the most specialized nail salons in the capital. It has a manicure and pedicure area with massage chairs and individual television sets , so that the experience is completely relaxing and pleasant.

In addition, its menu of services is very extensive , since you can order from a traditional manicure, to an exfoliating , moisturizing or spa, without forgetting the semi-permanent Shellac enamel or nail decoration.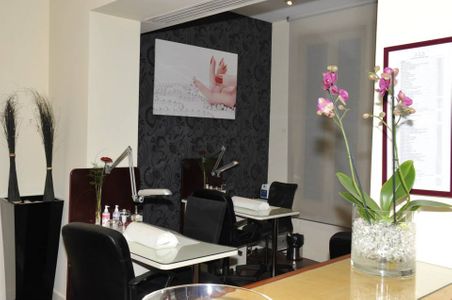 Nail's secret
If when you saw the scenes of Sex in New York in which the four friends enjoyed a mani pedi session and confidences, you always thought of finding a place where you could do the same, look no further: Nail's Secret is your place.

Upon entering the center you will move to the Big Apple through its decoration, in the purest New York style, and its areas of drying lamps, where you can catch up with your friends or relax while listening to the best music with a cocktail in the hand .

They have several centers in the capital, all very well located, so that you can choose the one that best suits you by location.
Doing gel nails at home
Although the easiest and safest thing is to go to a center, there is also the possibility of doing gel nails at home. If you tend to be good at getting a manicure, you will surely get the hang of it soon. For this, our recommendation is that you try to buy quality products. Look for opinions on gels and permanent enamels, before choosing. Do not forget that it is essential that you get a lamp so that the acrylic dries well. Another alternative is to opt for kits that already contain everything you need to make your gel nails (gels, permanent enamels and other devices such as lamps). There are even courses specially created to do gel nails at home. You choose!
Not sure which design to choose for your manicure? Record all trends!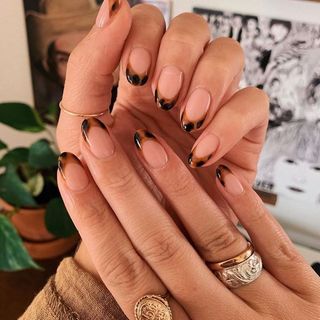 Finally, if you are addicted to doing a manicure, we leave you with this article with which you will feel very identified … 10 things that happen every time you do a manicure at home!