Glued braids are a hairdressing classic! Sometimes elegant, sometimes glamorous … we can create an infinite variety of root braids to suit our style. Tempted by the fashion of glued braids? We give you our secrets and tricks to make them a success and to keep them.
The attached braids , also called "tresses root", "crnrows" in English or " braids boxer " when worn in braids pairs- are very close to the skull. A true trend adopted for years by the sphere of beauty. They can be worn two by two, multiplied infinitely or made into a single braid … according to your wishes. This hairstyle, originally from African culture, has the distinction of being a classic hairstyle and therefore timeless. It is also liked for its practicality. The hair is effectively free, and positioned towards the back of the head. It is also a way to highlight facial features.
Glued braids, for whom?
The frizzy hair , curly and thick is ideal for stuck braids. Its shape and texture effectively hold the braids firmly. However, there are no rules with this hairstyle! Every woman (or every man and boy!) Can choose what she likes best. Therefore, braids that are glued together can also be done on fine, straight hair; they will just last much less time. If your hair is quite fine and soft, then choose a braid that will stick only for one day!
Tuto: how to make glued braids?
Most of the time it is done in a hair salon that specializes in afro hairstyles , but the glued braid can also be done at home. And for this, you just have to follow our tutorial!
Start by detangling your hair with a brush or comb adapted to your hair type. To make the task easier and as painless as possible, remember to start with the lengths and gradually work your way up to the roots.
Get your hair wet , or put a suitable product to facilitate the combing of the braids.
Determine the area you want to braid, remove it and then tie the rest of the hair with a scrunchy or whatever you want to simplify your life.
At the "base" of the braid (the area closest to the face), separate your strand into three strands of equal size.
Start braiding "backwards." This is how it works: instead of passing the strands one over the other, as you would with a classic braid, you will have to pass them one under the other. Here's how you can get this "squished" braid effect. Also, remember to include a thin section of hair in the middle section each time.
Don't forget to tighten the highlights each time to get a good result. Once the braid is finished, hang the end with a thin and discreet hair tie. You can choose a tone the same as your hair color, for example …
Customize your braids, and make them unique!
As we have said before, the glued braid can be used alone, or multiplied according to your wishes. It is also possible to place the braids wherever you want and vary their thickness. The glued braids thus offer many possibilities for hairstyles, and are perfectly adapted to the wishes and appearance of each one. For more elegance, you can style your braids into a bun, ponytail or crown. Guaranteed effect!

Lastly, there are various accessories that allow you to customize your glued braids. We think in particular of "hair piercings", small rings, colored elastics, pearls, or even dyed extension wicks. Discover below in images some ideas, of the inspirations that we have found in the famous ones, or that we have seen on Pinterest: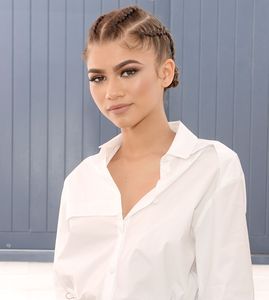 How to take care of your stuck braids?
Wearing braids together saves a lot of time every morning. However, that does not prevent a certain beauty routine from being followed. For root braids to last, you need to take care of your hair! People who keep their braids on for several days or even weeks still have to wash their hair, of course!

To do this, wash the roots with shampoo once a week. Also remember to nurture your lengths. Twice a week, warm a few drops of hair oil between your hands and run them through your braids. Nothing better for nourished and shiny hair!