Who doesn't dream of straight and healthy hair? A treatment that would help us is keratin straightening, but what are the pros and cons? We will tell you!
Keeping our hair neat and healthy is not easy. Day by day we subject it to irons or dryers that do nothing but damage our hair. An alternative to these utensils would be the well-known keratin straightening but, like everything, it has its advantages and disadvantages.
What is keratin? It is a component that we all have in our body, especially in the nails and hair. With regard to our hair, keratin helps to hydrate it and keep it healthier, giving it shine and strength as well as regenerating our hair fibers . However, it is important that we know that protein as such does not straighten, that is the job of the straightening treatment.
To know the process well, we have to go to its origins. This treatment was born in Brazil and then gradually spread throughout the United States. Without a doubt, now, the keratin straightening treatment is one of the most used in recent times by hairdressing professionals around the world. This keratin is applied to the hair and helps you clean it up and reduce the effect frizz ( frizz ).
What does the treatment consist of?

The straightening is achieved thanks to the application of the protein on all our hair , from the roots to the ends. Once we have all the hair covered in keratin, it is sealed with a professional iron, ironing it until it is completely smooth . However, it is important to know what benefits and disadvantages it brings us because not all of them are good for our hair. Very attentive!Discover: Hairstyles 2018: we review all the hair trends that triumph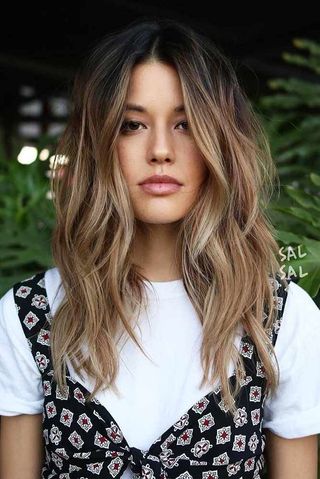 What are the advantages of keratin straightening?
We cannot deny that keratin straightening is one of the best options to achieve straight hair without excessively mistreating our hair. What benefits can keratin straightening provide us?
Nutrition and restructuring throughout our hair: keratin will provide many benefits to our hair fibers. In addition, as it is a treatment that goes from the roots to the ends, the protein will act on all of our hair.
Reconstruction of the hair fiber : the treatment will help to sanitize your hair and protect it from damage that may be caused by irons or dryers.
It does not need much styling time : A super advantage is that being healthier and smoother you will not have to worry about straightening it or combing it with the dryer.
Duration of treatment: depending on the rebellion of your hair, the treatment can last between 3 and 6 months.
Smoothing even for wavy and curly hair : If you have wavy hair , the result is ideal, since you will get completely straight hair. If you have it curly , the result is not 100% straight but you will get beautiful wavy . To all this we have to add the shine and luminosity that keratin will bring to our hair.
Yes indeed! If you want to give yourself the treatment, it always has to be in the hands of professionals . They will know how to advise you on the treatment of your hair, the duration, how you have to take care of it, and so on. Each hair is a world!
What are the disadvantages of keratin straightening?
As we explained before, each hair is different and therefore not all are suitable for this type of treatment:
Not suitable for damaged hair: if you have weak and damaged hair, we do not advise you to opt for this treatment.
Price: straightening Keratin has many advantages, but what concerns our pocket, do not come to us any good! The price ranges between 200 and 500 euros, depending on the beauty salon you go to. Also, if you want to keep it you will have to go back to the hairdresser soon. Beware of scams! If you search, you will be able to find offers of less than 200 euros, do not do it. It is already known that cheap is expensive and if you apply low-quality products it will affect your hair.
If you have curly hair , think: It's advice we give you. Normally, girls who have a beautiful curl and dare to do keratin straightening will never regain that 360-degree curl. Careful!
Post-treatment : we do not recommend it if you have hair that greases easily since after performing the treatment you will have to spend three days without washing your hair. You will also not be able to use hairpins and rubber bands for two days, much less dye it.
Some questions about treatment
How long does the effect of the straightening last?
As stated above, the effect may last for at least 3 months and at most 6, depending on the hair, washing, care, and so on . How often should it be treated? Normally every 3, 4 or 5 months, it depends on the needs of each hair. As your hair grows, you will notice that the root part no longer retains the original smoothness and it will be necessary to go to give it a review. How long does it usually take to apply the treatment? Depending on the center and the length and volume of the hair. An approximate duration would be between 2 and 4 hours. WITH or WITHOUT formaldehyde?
There are many scams with keratin treatments. In some beauty salons they give the formaldehyde treatment and we do not advise it at all. It is a toxic substance that is harmful to our health and our hair.

How do you know if they have used formaldehyde or not?
Keratin formaldehyde treatments have a very strong odor and cause itchy and irritated eyes.
We must not forget that keratin is a very good product for our hair, but if you have damaged hair, we recommend that you opt for the option of a repairing treatment . And now that you know the pros and cons of this treatment, would you dare to try it?