Whether genetics has endowed you with a spectacular brown hair, or if your hair color is a product of the wonders of cosmetics, there are certain makeup trends that will suit you better than others. From the retro eyeliner to the most marked lips, passing through the iridescent shadows, we reveal the most flattering makeup for you.
Adepts of brown hair and dark brown hair, we have searched for makeup trends that will allow you to highlight your features. A nice vibrant lip red will accentuate the color of the skin, while a smoky in brown tones will further define your look . It goes without saying that you always have to comment on a good makeup base, always use a very natural tone that is closest to your skin. The rouges in honey and coral tones are yours, and to delineate the eyes always use black or brown. For makeup for brunettes, they always favor cold tones, for example blues and grays, for shadows they are a safe bet.

Are you shy and do not like to go too much makeup? We have also thought of you. Eye shadows with shades such as violets, grays or bronze tones will look great on you. And if discretion is not your thing, metallic and iridescent textures will be a must of the season. We present you the 20 makeup ideas for brunettes that you must try
1. The retro eyeliner
The retro eyeliner in black, with a thick and elongated line , is a winning bet for brunettes. It intensifies the look and enhances the dark color of the hair. It is perfect for special occasions when you want to bet on a more powerful and elaborate makeup.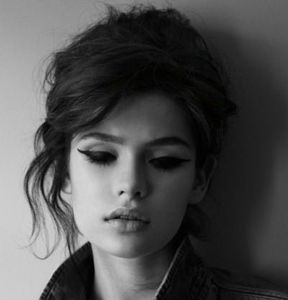 2. Orange lips
Orange for lips is very flattering for brunettes , as it stands out with the hair color. However, it is a shade especially suitable for brunettes of both hair and skin, since it is a warm tone, and warm tones are especially flattering for women with brown hair.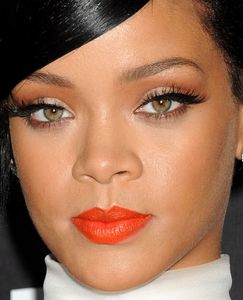 3. The hypnotic khol
The khol is perfect for brunettes, yes, it is better to avoid it in the case of having small eyes because when framing them they will seem even more so. Use an eyeshadow brush to blur the smoky eye effect and get a piercing look for the perfect party look.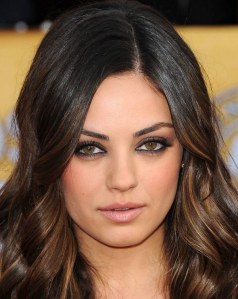 4. Bitten lip effect
The bitten lip effect is a makeup trend that we love . The result is very natural and provides a very youthful touch that reduces the sobriety that brown hair can generate. Sometimes, less is more!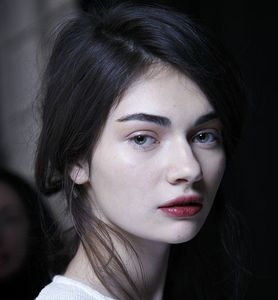 5. The smoky blue
Cool shades look great on brunettes, especially on lighter skin . If this is your case, why don't you bet on a smoked in blue? It is perfect for evening events or parties where you want to highlight your look with a much more special and different makeup.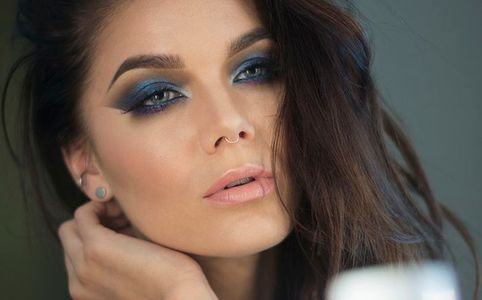 6. The baby doll look
This type of look is very flattering for brunette women. With it you will get a very youthful style in which the lips are the protagonists. We love! To achieve this, you just have to make up your eyes with black mascara on the upper lashes and also emphasize the lower ones. A little powder in warm pink tones and pink or red lips, and nothing more!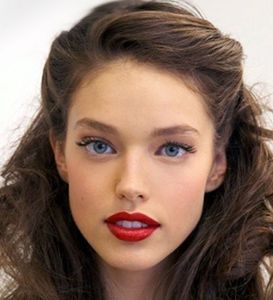 7. Piercing gaze
If you like to mark the look a lot, you are in luck because the thick and infinite lines favor brunettes a lot. So dare and don't be afraid to draw the lines with your eyeliner.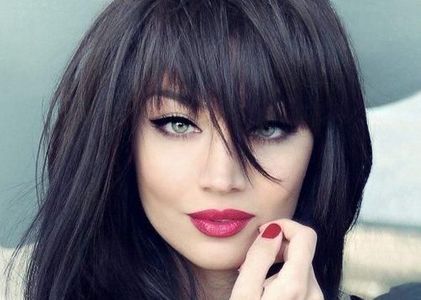 8. Iridescent pink mouth
Pink lips are also a sure bet for brunettes. With them you get a look with a very sweet touch . They are perfect for day to day.
9. Blue and white
In this case, in addition to betting on blue, a hue that, as we have already explained, favors brunettes a lot (especially those with white complexions), white is added to illuminate the look.
The result is very original!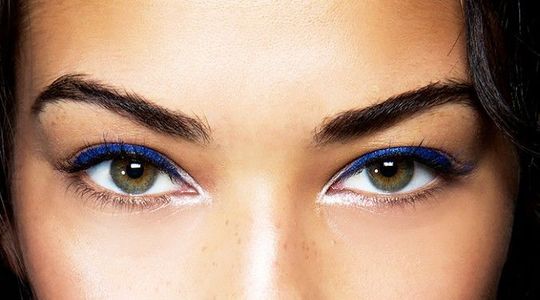 10. Silver sparkles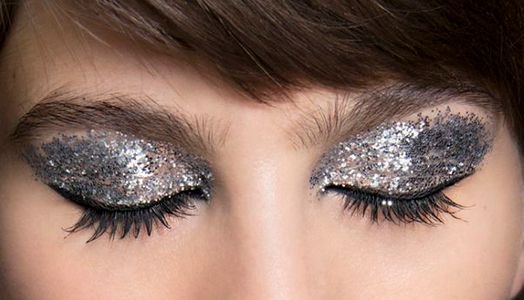 11. And golden
Both silver and gold in the eyes are very flattering for brunettes because it creates contrast with the hair color. If you have a date night and want to add a bit of sophistication to your look without getting too complicated, betting on these shades will help you. Choose a metallic gold or silver eyeshadow and you will get twice the shine.
12. Contouring
This makeup technique aims to highlight, refine or hide facial features through the use of dark and light tones . This makeup favors all types of hair and skin, and in the case of brunettes it was not going to be less. It can be very useful to soften the features.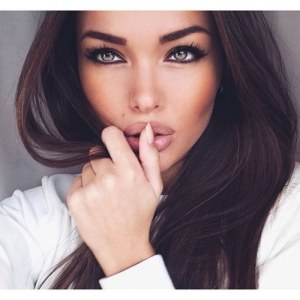 13. Metallic shadows
Metallic shadows are also very flattering for brunettes, since the contrast is greater than in the case of light hair. If you want to try a strong eye makeup, do not hesitate and go for metallic ones.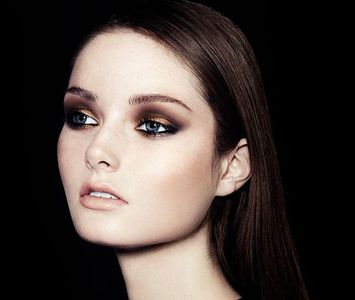 14. Nude lips
Nude lips are also very flattering for brunettes, in fact, they make their hair take center stage. It is a perfect option for everyday or for those who like very subtle makeup.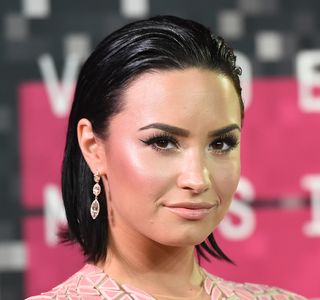 15. Glossy effect
And if your thing is to shine, don't worry! The glossy effect is also very flattering for brunettes.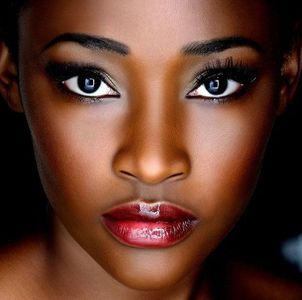 16. Sophisticated eyeliner
If you want a more subtle eyeliner than retro, don't worry because this option is also perfect for brunettes. With it you will get a feline look.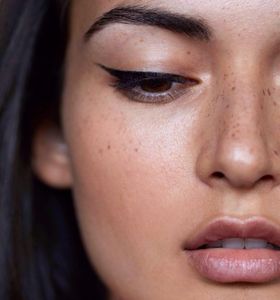 17. Orange shadows
As with orange lipstick, shades in this shade also favor brunettes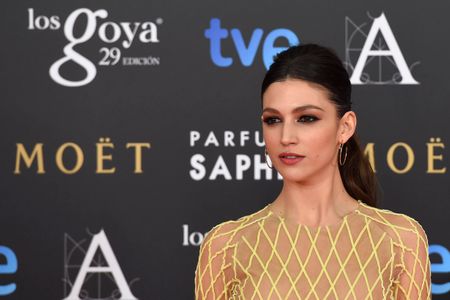 18. False eyelashes
False eyelashes or eyelash extensions are an ideal option to highlight the look. In the case of brunettes, long and bushy eyelashes are a guaranteed success.
19. Smoked with golden reflections
Golden smokes are also very flattering for brunettes, especially those with light eyes.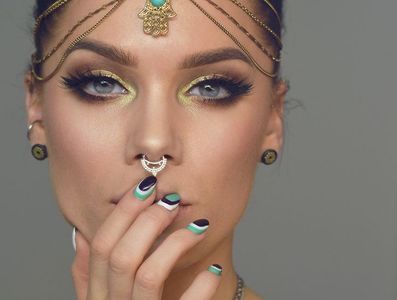 20. Makeup for brunettes with brown eyes