How is a fragrance represented in images? Do not miss the masterful project 'Ode Scentual Perception 1' by Sebastian Fischenich. We will tell you.
According to Jean-Claude Ellena , during the creation of perfumes anxiety is very often manifested by reading the first lines of a newly written formula. The difficulty of codifying an elaborated project in scent notes, that subtlety of the perfume construction, of the invisible trace and its evanescent mystery, is above all an intellectual decision that can be traversed in the opposite direction. This is how the masterful project 'Ode Scentual Perception 1' by Sebastian Fischenich works: a beautiful publication in which a large cast of creative collaborators retranscribe – in terms of images and words – a specific perfume. JOYCE recognizes the true innovation of these 46 works of art that our better-nosed readers will be able to smell.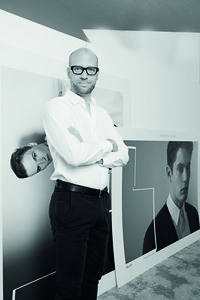 © Joyce
Jean Claude Ellena said: "smell is a word, perfume is literature". With ODE you seem to firmly believe it.
Yes, for me it was very important to bring to light the different layers and emotions that connect us to a perfume . As human beings we are able to recognize more than 10,000 scents, but our language is limited to differentiate them by verbalizing. That is why it occurred to me to show them through images, which are a good transport of emotions for the world of perfume. In ODE the words are only subtitles (excluding those texts by authors that are images themselves).

Transcribe a perfume into images. How did the idea come about?
Understanding the world of images, being able to read their meanings and signs is like understanding the complexity of a perfume. Throughout the history of art, images have always been a symbol of wisdom and understanding. During the period when many were unable to read, images communicated the content and wisdom of religion and science (biblia pauperum). When we see images, we continue to think that they are a kind of reflection of the real, even knowing that they can be manipulated, but they seem concrete and tangible to us. With the other senses it is more difficult, they are very connected to emotions and feelings, the unreal, the non-tangible. That is why images are the perfect level of communication for this.

In his collaboration with writers, artists, photographers … he does exactly the same thing as The Little Prince when he says: "Dessine-moi un parfum".
That is a very poetic comparison and one that I really like. I would not dare to formulate it myself, but if it comes from you I accept it and I appreciate the compliment.

Tell us about the process to produce the images. Is it true that you sent your collaborators an anonymous perfume without packaging or information and asked them to interpret it?
There were two different paths. I appealed to 33 people related to the world of images : artists, collectors, musicians, dealers … I asked some of them to send an image describing their favorite perfumeand a small text as a subtitle. On the other hand, I selected 13 photographers to create an image from an anonymous perfume. They just had to smell it and create. It was very interesting for me to confirm that aromas create images and transmit them.

ODE is not simply a jewel: it is a true olfactory essay, a masterpiece in which neurologists, researchers and artists participate. How did you choose them and why?
Finding the right people was important to me. It was essential that they did not belong to the perfume industry for the vision to be completely fresh. I wanted to make a cultural contribution to the world of perfumery, which is a wonderful and often forgotten art. All the people who participated in ODE did so on a voluntary basis, to support the concept, and I will be eternally grateful.

Perfume and memory are inseparable. What or what are your most evocative perfumes of memories?
Being in front of the Humiecki & Graef perfume house, I must say that mine are my favorites. The important thing for me is that a perfume has a deep and complex spirit. One of my favorite classics outside of our brand is JICKY from Guerlain. I love its modernity, the fact that it is not exclusively for men or women, its density and mystique.

Bettina Meier-Bickel affirms: "Every day a new opportunity". These days, with the pressures of marketing on our noses, are the opportunities less?
Of course. That is a big problem. Perfumes are losing their artistic entity. Many of them are created to be sold very quickly, they are the result of consumer surveys and have nothing to do with the emotional and artistic aspects of perfumery . But it is interesting that consumers and lovers of the sector begin to discover artistic and niche perfumery. For me it is the sign thatpeople not only buy a product for its brand, but they want real products for its own qualities.

How did you select the perfumes for the book? Some are very unknown niche perfumes.
I only chose 13 of the photographers. The others were chosen by the rest of the participants. It was important to me that it was them and not me who chose. As for the photographers, I made a selection of known and unknown perfumes. For me the artistic component was important.

All the perfumes in ODE are very narrative: they tell a story, a place, a trip, an occasion… Therefore each image and each comment is totally subjective, intimate, intuitive and personal?
For me, good perfumes are like works of art and go beyond simple aesthetics. Of course our own intuition is important, but I think there is a common sense that helps us to differentiate what is – and is not – art. That is the mystique of quality, which makes you look and feel or just the opposite.

What is your perfume bio?
First are the aromas of childhood. The smell of the earth, the dill Anethum graveolens, the pickles, the strawberries and raspberries, my grandmother's garden. On the other hand there is the smell of pine wood, in the summer, on the way to the beach. The fragrance of hot, dry sand, some berries, the freshness and sweetness of pine trees and their touches of resin. The smell of the morning in the mountains. As for the first perfume I remember, it was the oldJil Sander for men in the late 80s. Then I switched to Fendi Uomo and Vetiver by Guerlain during my studies in the mid 90s. Then I started experimenting with all kinds of perfumes . In 2002 M7, a very good one from YSL that reminded me of the raspberries that I loved in my childhood, halfway between the young boy and the tough man, as it contained tobacco and leather.

How do you envision the perfumes of 2040 and which, among the icons and new ones that exist today, do you think will survive?
Those with a strong concept will survive for sure. Those that were created only to sell will disappear. I think that in 2040 we will continue to use perfumes externally, but also in the form of pills that we will swallow to smell better.

Is the magic of perfumes – and also of ODE – their ability to be personal as well as universal?
Absolutely. That is what ODE stands for. Through culture we share a certain sense for images and feelings. That fascinates me. There are many photographs in which I practically feel like I can smell the perfume. ODE shows us that, beyond the name of a perfume, there is a great unconscious imagination in its aroma.

Do women really have more abilities to detect, identify, differentiate and collect scents?
The woman may have it through her culture. But if we go back to the 18th century we see how men also used all kinds of perfumes and there was no distinction between the sexes, something particular to the 20th century. It is interesting how with artistic perfumery we begin to return to the cultural tradition of the first perfumery.