The Hermès Colognes family grows with the addition of two new colognes, Eau de néroli doré and rhubarbe écarlate. Can a perfume leave a mark?
We like to be told stories, to know the details of the creation of a fragrance , shoe or machinery of a watch. Consumers are curious and when they smell a cologne, memories quickly awaken within them. Jean-Claude Ellena, Hermès nose since 2004, knows this very well, that is why every time he creates a cologne he gives those who perfume themselves an immediate, intimate pleasure.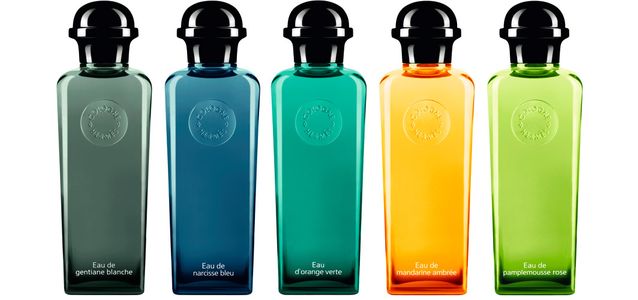 © Hermès
With Eau de néroli doré , the fifth creation of the Colognes, we moved to the Mediterranean. Neroli, an extract of orange blossom, is generally used in very small amounts in perfumes . In this case it has been used like never before, profusely, achieving an impeccable result. It also has a touch of saffron, but it is very difficult to perceive.

During the presentation, HermèsHe invited us to savor with all the senses, the ingredients of his new proposals. Discreet waiters passed trays with delicacies that transported us to the most remote places that inspired the fragrances. A fun exercise with which we could feel in first person all the touches of his new work. We were also lucky to meet Christine Nagel , perfumer-director of the creation and olfactory heritage of the Hermès house, she told us that the nose loves the scene from the film The Brown Cat in which Burtlancaster perfumes his hands abundantly and the earlobes. Try to do it!

His other novelty is called Eau de rhubarbé écarlateand it is bolder and bolder than the previous one. A fragrance that goes from soft to velvety in a matter of minutes. It reminds us of white musk, the perfect trick to blend with our skin.

Of course, both fragrances have hydrating face and body balm, shower gel, and our favorite, the scented soap of a lifetime.

At Hermès, each creation, each object, tells a story.
Curiosities
– Did you know that neroli owes its name to an 18th century Italian princess? The princess of Nerola, who used this scent to perfume her gloves.

-The rhubarb changes color, goes from green to red.

-We love that Spain was the country in which both colonies were presented for the first time and that their packagings are the color of our flag. Hermès does not lose detail!