Philippe Starck has created three perfumes in which the woman, the man and the pure spirit are present. Three different and magical combinations, for which the skin takes special relevance. We will tell you.
We all recall past memories when smelling a familiar perfume again . The history of Philippe Starck perfumes begins like this, with the emotions that aromas produce. When he looks back, he remembers his mother's perfumery, in the narrow back room where he had to wait hours between different smells, which he considers the beginning of his creativity. And this is how he explains it on his website : "In that place where I liked to take refuge, I was in the middle of nowhere and, at the same time, everywhere. Thanks to the smells I could travel an unknown territory of infinite wealth. Something was growing inside the most powerful connection between the brain and the subconscious . "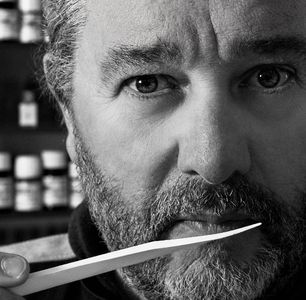 © Instagram Philippe Starck
All this led him to create his own perfumes, with the help of professionals who listened to what he wanted to convey, an olfactory story . A romantic who seeks that the perfume has a connection with its wearer, something that occurs when it comes into contact with the skin. That is why the collection speaks of leathers : Peau de Soie (Silk Skin), Peau de Pierre (Stone Skin) and Peau d'Ailleurs (Skin from Another Place).
Peau de soie
A perfume for women, but according to Philippe Starck, it is not for the women you see in magazines, those who try to sell us everywhere, but rather the mystery of women. For his creation he has been based on that interest he feels for what he will never understand about women. "And that is beauty. A woman's perfume, but inside it keeps a man's heart," he explains on his website. Due to the latter, man is not excluded from the use of this fragrance.
Peau de Pierre
Something similar to the previous one, but for men, is Peau de Pierre . A masculine perfume, but without forgetting its feminine side. "It looks like a man's perfume, but it has within it a femininity that is more or less revealed. The membrane between the two is the shadow zone, where differences emerge between our personalities, "he details. Again, although the masculine essence predominates in this perfume, women are also invited to use it.
Peau d'Ailleurs
It is a different perfume, which Starck defines as strange. "I wanted a perfume that we had never heard of, that we had never seen before, that we could neither remember nor name. The perfume of a positive nostalgia, of the shadow, of the void." Therefore, it is not related to the sexes but to the pure spirit .
Which of the three would you choose?