Hyaluronic acid is a great ally for the care of our skin. Its properties fight against the loss of volume and wrinkles, in addition to having more benefits than you can imagine. We tell you everything you need to know about hyaluronic acid!
Index
The hyaluronic acid is a substance found naturally in our bodies. Indeed, it belongs to the collagen found in our skin. Helps keep skin hydrated and with a juicy texture. However, due to the passage of time, the presence of this substance decreases considerably.

Especially after the age of 35, the shape of our face begins to change, precisely due to the loss of hyaluronic acid production in the skin . In this way, we notice how our skin and the most sensitive tissue such as the eye contour lose firmness and volume. In addition, this leads to the appearance of wrinkles, as well as an aging of the skin and an accentuation of the lines of expression.https://imasdk.googleapis.com/js/core/bridge3.447.1_es.html#goog_368576677Volume 0%00:0200:50 Video by Carla Dominguez
First of all, it is important to know that one of the main properties of hyaluronic acid is its ability to keep the skin hydrated: it retains water in the epidermis, that is, it is as if it had a filling effect. In large part thanks to this characteristic, it is why hyaluronic acid has become one of the star ingredients for anti-aging creams and treatments. .
Our recommendation:
This organic and pure hyaluronic acid serumthat you can get on Amazon and that has incredible reviews for its powerful moisturizing and filling effect on facial skin. You can buy this super hydrating serum on Amazon for € 14.99© AmazonBuy from Amazon for € 14.99
Indeed, in addition to providing hydration to our skin, this wonderful product will fill in the small wrinkles and expression lines that we all have. In general, it will give a smoother and smoother appearance to our face. Sounds good right? Well then we detail all the properties and benefits of hyaluronic acid , take note!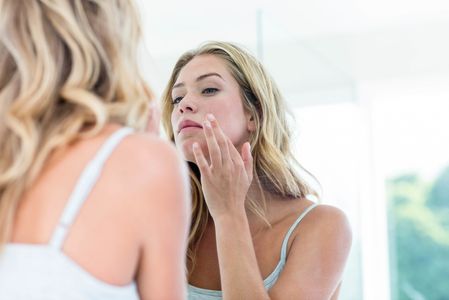 © iStock
Properties of hyaluronic acid in aesthetic medicine
It was in the 90s when the hyaluronic acid began to be used in cosmetics as a treatment against wrinkles . In this area, hyaluronic acid acts from within the skin. It comes in the form of injectable vials. In this way, this substance is able to restore the initial volume to our face and provide it with deep hydration.
Another of its great advantages to highlight is that it also improves the smoothness and luminosity of the skin, correcting the first signs of skin aging and keeping our skin permanently young. Anti – aging treatments has two functions:
External : they are non-invasive therapies in which serums or creams with high concentrations of hyaluronic acid are used and which are applied through facial massages. The result of this type of treatment is a notable improvement in the appearance and smoothness of the skin.
Internal: they are specialized therapies in applying this component from the inside of our skin.
Properties of hyaluronic acid in cosmetics
In general, it is thought that the application of hyaluronic acid to our skin can only be done by surgery. However, cosmetics have come a long way. Today, it is no longer necessary to resort to internal treatments to improve our skin. If you like the effects of this product but do not want to undergo medical treatment, you should know that there are wonderful creams that will give us professional results.

One of our favorites is the Revitalift Filler range with hyaluronic acid from L'Oréal Paris that you can see here.This range includes day cream, night cream, filling mask, day serum, and eye serum. All the products in its range have a high concentration of pure hyaluronic acid that:
helps restore the volume of our face.
fills in wrinkles.
densifies the skin progressively.
Our recommendation:
Within this range, the star product is the serum . It has the highest concentration of hyaluronic acid of the entire brand, formulated in its pure state. Your results? It moisturizes the skin and promises to restore the elasticity of the skin and plump it , in addition to reducing wrinkles under the eyes and the upper lip by up to 20% by up to 14%. Buy L'oreal Hyaluronic Acid Replenishing Serum here on Amazon for € 13.59.© AmazonBuy on Amazon for € 13.59
For what types of wrinkles is hyaluronic acid recommended?
As we already know, hyaluronic acid is especially recommended for facial wrinkles, but where is it advisable to apply this component so that it really works?
Contour and corner of the lips.
Lip and facial volume (cheekbones).
Lip or perioral wrinkles (around the mouth).
Nasogenian furrows (fine lines on both sides of the nose and mouth).
Crow's feet.
Our recommendation:
We love this serum with a high content of hyaluronic acid and vitamin C extract , which hydrates and plumps the skin and we recommend that you apply it around the lips, crow's feet and nasolabial fold. It is one of the best valued on the market with more than 500positive reviews on Amazon, and it will be for a reason. You will get a smoother, firmer and softer skin if you use it daily. Get Kleem Organics Hyaluronic Acid and Vitamin C Serum on Amazon for € 18.97.© Amazon
Properties of hyaluronic acid in joint diseases
Hyaluronic acid , also called glycosaminoglycan in the medicinal field, is not only a component widely used in beauty treatments. It is a beneficial product to treat arthritis . It is used to treat the joints, as it is a fundamental part of the synovial fluid mixture that acts as a lubricant for the knees, elbows and phalanges. We recommend that you always ask your doctor to start this type of treatment. But, what other benefits does hyaluronic acid have with joint diseases?
It favors the movement of the joints and protects against the load and weight of the body.
Thanks to its water-binding properties, hyaluronic acid turns into a kind of jelly that helps lubricate the joints .
In the treatment of diseases such as arthritis it is used in the form of injections. These have to be applied by doctors in aesthetic clinics or specialists in rehabilitation centers. It should always be borne in mind that medicinal treatment should be guided by a professional.
Hyaluronic acid as a food supplement
Surely, you have ever heard that hyaluronic acid is usually consumed by athletes and other people with physical exhaustion. What properties does hyaluronic acid have as a food supplement?

If hyaluronic acid is taken as a supplement to our diet, we will notice an improvement in our daily replacement and physical repair . Especially, it has remarkable results in the elderly, since it provides the lack that is in the body naturally and helps to repair cartilage.

With age, its production decreases and this triggers loss of skin elasticity but also the aforementioned pain in the knees, elbows, fingers, etc. It can be bought both in powder to mix with water, and in tablets.
Our recommendation:
These concentrated hyaluronic acid capsules are triple the strength compared to many brands offering 100mg per capsule. They include 90 capsules so the bottle lasts 3 months and is completely vegan, gluten-free and lactose-free. And reading the reviews is the best on the market.