Easy to use, cheap, fast, efficient … the razor is a good ally when it comes to removing hair! Whether at home, in the shower or before going out with your boyfriend, it is very practical. No need for special skills – nothing is easier than using an electric or manual razor or razor. As long as certain rules are respected …
What is the best razor for women?
Choosing the right razor for shaving is not always easy. Electric or manual shaver? One, two, three or five leaves? The most important thing is to feel "good" with the female razor you have chosen … Here is a brief summary of the different options available to help you choose before the hair removal stage.
The main advantage of the manual shaver is that it can be easily found in the supermarket (whether disposable or not) and it is easy to use. However, to avoid irritation after waxing, it is best not to settle for the most basic single-sheet models and prefer the multi-sheet models.
For those with sensitive or dry skin, there are also razors with moisturizing strips, which are handy for soothing a razor burn.

Female razors also often have small blocks of soap around the blades. This can replace shaving cream, but keep in mind that there are many shaving creams for women. If you cannot find shaving foam, the soap can be used without problem.

Advice:If you decide to use a manual razor to remove your hairs, it's best to shave after a hot bath or shower. Your hairs will be softer and your skin more "supple".
Electric razors for women are even safer than manual ones (the risk of micro-cuts is reduced) and some can even be used in the shower. There are also models with different styles of blades to adapt to the area to be waxed (bikini line, armpits, legs …). Some are also equipped with rotating heads to straighten the hairs and not miss a single one. There are also models with vibrating blades to trim the hair as close to the skin as possible. As for the power supply, here again, you have to choose between battery-powered, AC or battery-powered shavers.

The only downside to electric razors? The result is not always as sharp and precise as with a manual blade.
When the hairs grow back …
This is the big drawback of the razor: after cutting, the growth is very fast. So you will have to start shaving again every 2 or 3 days … In addition, the hair you shave will once again be harder, thicker, dense and sometimes even darker. In some areas more sensitive than others, hair can even grow back under the skin, causing itchiness and other small pimples … So don't use the razor anywhere on your body!
When celebrities reveal their beautiful and perfectly shaved legs …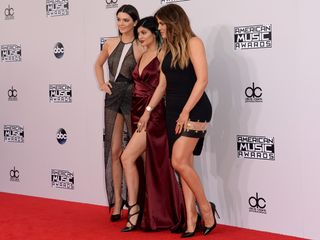 Areas that can be shaved
Razors are great for hair on the legs and armpits, but much less so for the most sensitive areas of the body. For example, they should not be worn on the arms, bikini line, eyebrows, or mustache. Apart from the risk of micro-cuts in these delicate areas, the hair will grow back thicker. Itching and pimples are also very likely to occur. So it is not a good idea!
As a general rule, razors are also not recommended for all girls with a lot of hair: using a razor or razor would not be the correct solution, as this method of hair removal would increase their hairiness. Certain areas of the body can be shaved, as long as you take your time and pay attention: this is the case of the knees and ankles, for example. Your sensitive skin will thank you!
Tips for a perfect shave
Prepare the skin before shaving
For a perfect shave, it is important to prepare the skin and even maintain it on a daily basis. So remember to hydrate it properly every day to avoid skin irritation and make it more flexible. Do a body scrub once a week to remove dead skin and prevent ingrown hairs. Before shaving, a good hot shower is also recommended to soften the skin and hair.
Shave in the right direction
Using the razor is done in a very specific way! To maximize the chances of removing the hairs as close to the skin as possible, the ideal is to shave in the opposite direction of growth: from the bottom up for the legs, for example.
But although this method of shaving is more precise, it is also more irritating: if your skin is already damaged, it is better to shave in the direction of the hair.
To shave the armpits, it's a bit different: here, the hairs grow in both directions … So no one shaving technique is better than another. The important thing is to take your time!
After shave care
Whether you use an electric razor or a manual razor, this method of hair removal irritates the skin. So use the right skincare products to keep your skin smooth and beautiful. After shaving, you can use an aftershave lotion on irritated skin (sweet almond oil, coconut oil, or talcum powder may also be suitable). And as mentioned above, you have to moisten the depilated areas daily between sessions.
On the other hand, avoid using deodorant immediately after shaving your armpits.
Also read about aufeminin:
Solve all your doubts about laser hair removal
Do you know what photoepilation consists of and how it works
Everything you need to know about hair discoloration
Hot waxing: everything you need to know