This week we have seen an absolutely revolutionary product, especially for those of us who constantly dye our hair. It is a formula that removes hair dye, returning it to its original state and also intensely nourishing it. It's possible? If you don't believe it, keep reading …
Our hair doesn't always look the way we want it, does it? Years of coloring and abrasive treatments can lead to rough, unkempt-looking hair. Sometimes, not even the most intense masks or conditioners are not able to make the hair fiber recover. If to this we add the mixture of colors that inevitably reaches our hair after multiple dyes, we can reach a point of no return.
If until now you had no choice but to do a hairdressing treatment or, directly, cut your losses , today a new solution has arrived: ColourB4. In the words of its creators, who recently presented it at El Corte Inglés, in addition to returning the natural color to even the lightest hair , it is capable of reversing up to 24 months of hair damage in just one hour.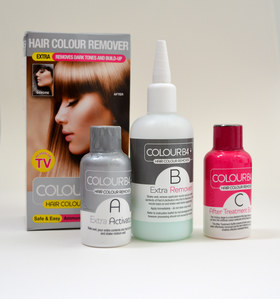 How does it work
ColourB4 shrinks the artificial coloring molecules in the hair , allowing them to be easily removed through the washing process. It does not alter the natural pigmentation of the hair, it only restores it after removing any artificial pigmentation. "We like to think of hair as a blank canvas on which you can paint," they tell us from the brand.

In addition to removing the remains of dye that you may have, its creators tell us that after its application, the hair is softer and shinier. That's because it provides important nutrition through its ultra-intensive conditioning formula.They also have a formula for frequent use, with an extra dose of nourishing conditioner, in case you need to completely remove any remaining color that resists fading.
Another thing we like: it does not contain ammonia and is 100% chlorine free.

If you still have doubts about its operation or results, you just have to watch this blogger's video. The truth is that it has surprised us a lot.https://www.youtube.com/embed/FnuJdK1S8nY?wmode=transparent
ColourB4: 12: 50 €
Exclusive sale at the El Corte Inglés supermarket, Hipercor and Opencor. Starting April 14.
For more information: www.colourB4.com