If you're bored at home and looking to try new potions, why not start creating your own homemade shampoo? These are the inexpensive and simple alternatives to prepare it. You will wear beautiful hair based on natural products and ingredients!
Index
Your greatest wish is for your hair to look beautiful, voluminous, silky and healthy. In addition, you want the shampoo you use not to be the product of questionable production techniques that are sometimes seen in the media around the world. So, since you will never find something more natural than what you are capable of creating yourself, we propose several recipes for homemade shampoo that you can easily make at home with natural ingredients that you can find in any closet or in your fridge. What more could you want? We started!
First steps
If you've finally decided to take the step of creating your own shampoo, there are a few things to keep in mind before you start making your first organic shampoo at home. First of all, even though these are natural cosmetics , there is no guarantee that you will not have an allergic reaction to certain ingredients. So before starting a recipe, it is better that you test each of the ones that you are going to use on a small area of ​​your skin to see how the prepared product reacts on it. If you are going to use essential oils , you should always use them carefully. Although they have many properties, they are particularly powerful and the doses must be very well measured. Bottom line: essential oils, yes, but not crazy.

Take your time choosing and testing them.

In addition, you must bear in mind that the homemade shampoos that you are going to prepare will not have the same texture (liquid, silky, fluid, foamy) as most of the so-called "classic" shampoos that you can buy in any drugstore or in the large surfaces and that you have become used to using until now.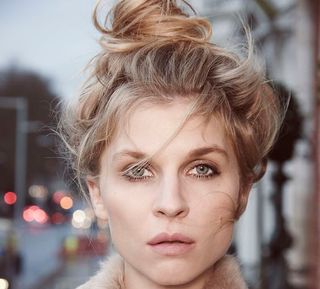 For this reason, although we tend to think that the hair does not wash well until the foam is generated, little by little you will lose the fear of washing your hair with your own shampoo even if it does not have so much foam. To apply it, you must spread the natural shampoo on the scalp and the ends and let it act for a few minutes before rinsing it off. As a result, you will have a clean and healthy mane.

Another thing you should know from the beginning is that it is not always easy to change from a "classic" routine to a 100% natural one. The difference between the two is that your hair and scalp will need a little time to adjust to the new mushroom. It is after this "transition" phasewhen you will realize how the appearance of your hair has evolved and you will not want to go back to industrial shampoos.

Finally, for your homemade organic shampoo to be effective, it must adapt to the nature of your hair, whether it is oily, dry, dull or with dry ends. There are as many types of shampoos as there are hair textures, you just have to choose well the natural ingredients that you are going to use!
These are the homemade recipes that you will want to try
If this is the first time that you make your own shampoo, it is better that you start with the simplest recipes and with few ingredients that, in addition, are very easy to find in any supermarket and have at home.
The recipe that suits all hair types: egg shampoo
It is very difficult for you to find an easier and cheaper recipe. Did you know that the egg has all the natural assets to become the best ally of your hair? The white and the yolk form an ideal combo, since the first is ideal for washing and the second will protect the hair fiber with each wash and leave it soft and shiny.

But, as they cannot be all advantages, you must bear in mind that the egg is very difficult to distribute throughout the hair and can leave a very strong smell after washing, although the smell will go away as your hair dries. AH! And you should rinse it with warm water , because as you get over the temperature, it can be fried and you can end up with an omelette on your head.

To make this recipe you only need to beat an egg (you can mix it with a tablespoon of coconut vegetable oil , a tablespoon of lemon juice and half a teaspoon of cider vinegar to multiply its benefits), or use it as is if you have nothing else to do. hand.
Best for oily hair: clay and baking soda shampoo
Pink, white, green … Depending on your hair type, clay powder is also ideal to start your new beauty habits effectively and with more than satisfactory results. It is a perfect component for oily hair that will clean your scalp and regulate the production of oil or sebum. Ultimately, clay is good for everything, including your body.

To make this recipe, you will need to mix two tablespoons of clay powder and 10 drops of rosewood essential oil in a bowl . Wash your hair with this mixture and rinse with lukewarm water.
If, on the other hand, you prefer to use baking soda , it is also a perfect option to take care of oily hair. It is a multifunctional ingredient that is used in all parts of the body and has an extraordinary washing power. In addition, it does not contain any trace of chemicals.

If you combine it with cider vinegar , you will find in this product your perfect ally, since it plays a detangling role and stimulates hair growth. If you hate the smell of vinegar or can't stand it, don't worry, as drying will fade this aroma. However, remember that you can always add a few drops of lavender or peppermint essential oil , for example, to prevent the smell from being so strong.

To make this recipe, you must mix two tablespoons of baking soda with three tablespoons of water. Then apply the ointment to damp hair , let it sit for a few minutes and rinse the hair as usual. Dilute a tablespoon of cider vinegar in a container to which you have previously added four tablespoons of water and spread the mixture through your hair. Leave it for two or three minutes and then rinse your hair with water one last time to observe the effects of the baking soda on your hair!

Be careful with this recipe, because it can irritate your scalp in the long term, especially if you have sensitive skin. Don't abuse too much.
For dull hair: honey shampoo
Do you have dull, dull hair? Then this natural honey shampoo is the most suitable for you. It will give your hair, and therefore your face, all the energy it needs. Known for its wonderful moisturizing properties, but also for the shine it brings to your hair, this sweet treasure has a real effect on your hair color and even has lightening properties . To further accentuate this effect, you can opt for lemon honey (lemon is the natural lightening product par excellence).

To make this recipe, you will need to pour a tablespoon of honey into a saucepan before adding three tablespoons of water. Heat everything until the honey dissolves completely in the water. Now, apply this preparation to your hair like a basic shampoo, let it sit for about ten minutes, rinse and that's it! Thanks to this recipe, your hair will quickly regain shine and vitality.
The recipe that suits dandruff hair
If you have dandruff and have tried all the anti-dandruff shampoos on the market (always without success), then we advise you to look for natural and homemade recipes, since there are many possibilities that you will find what you are looking for. For this reason, we leave you here the famous natural and gentle shampoo formula that will help you eliminate dandruff and take care of your scalp:

In a bowl, mix four egg yolks , two tablespoons of coconut vegetable oil , a tablespoon of honey and finally, a tablespoon of cider vinegar. If these are the ingredients that have been chosen and not others, it is obviously not by chance, but because of all the complementary virtues they possess. While the cider vinegar will cleanse the scalp and remove dandruff and impurities, the egg yolks, coconut vegetable oil and honey will deeply nourish the hair and roots, soothing any unpleasant itchy sensations .
Another alternative to chemicals: homemade dry shampoo
Haven't tried dry shampoo yet ? Very bad decision! Although, on the other hand, much better, because then you will find the best way to wash your hair naturally and without the need to use water. Although large stores and supermarkets sell this type of shampoo, it is more advisable to do it at home, as it will be more natural and healthy for your hair.

Talc, for example, is perfect for absorbing the sebum responsible for the greasy appearance of hair. Sprinkle it on the roots, leave it in for a few minutes before massaging it in , then brush your hair until any residue is removed. We advise you to add a few drops of ylang-ylang essential oilto these powders so that the aroma is as fresh as possible. It's like you've sprayed your usual spray, except it's 100% natural and a lot cheaper!
Now you know what ingredients you have at home you can use to care for your hair, replacing your traditional shampoos and conditioners. Now all you have to do is create your recipes as you see fit, always according to what your hair needs. The better you know your hair's needs, the better the result of your homemade shampoo will be.

Healthier and more beautiful hair, washed less frequently , less pollution for the environment, saving time and money, less unnecessary accumulation of cosmetic products … There are so many reasons to create your own shampoo!