How can you be sure to do the perfect makeup for a party without going over or falling short? We leave you 10 tips so that you only have to worry about choosing the main color of your makeup and dedicate yourself to dancing and enjoying all night.
1. Prepare the skin well
As in painting, the key to a perfect makeup is to start with a canvas that is as homogeneous as possible. For this reason, it is important to take care of the skin on a daily basis, clean and hydrate it, and maintain a hygiene and care routine appropriate to our skin type. If you also want to unify the tone and correct small imperfections, it is best to use a makeup primer , which will help you even out the skin and reduce the size of the pores.Discover: Find out what makeup was in style the year you were born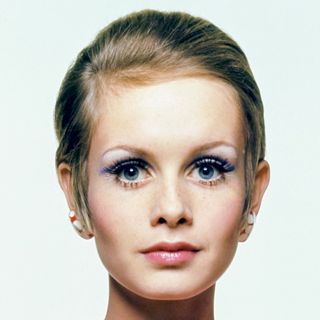 2. Choose the tone of the makeup base well
A party makeup , however discreet it may be, is going to be more ornate than an everyday one, so the key is to focus on an ultra-natural complexion while camouflaging small imperfections. For a light yet covering effect, choose a tinted moisturizer or BB cream that perfectly matches your skin tone, after concealing dark circles and redness with the help of a concealer .
3. Put the focus on both eyes and lips
Although you have surely heard ad nauseam that if we make up our eyes with an intense color we must wear the lips in a nude tone and vice versa, the truth is that in makeup there are no rules , and in a party look everything is possible . The key is that you feel comfortable with the result and that you let yourself be carried away by your imagination.
4. Always rely on smoking
If you don't have much practice with this makeup and you want to play it safe, smoky eyes are an option that never fails. In addition, depending on your tastes and your personality you have several options:
If you want to go for a more rocky look , choose colors like black, gray or midnight blue. If you want to add a festive touch, you can apply a touch of gold eyeshadow to the inner corner of the eye.
If you are looking for a more discreet smoky eye makeup , opt for softer colors such as burgundy, pink or brown tones. The highlight in the inner corner of the eye, the darkest eyeshadow in the outer corner of the eye and voila.
5. Play with the glitter
Another license that party makeup gives you is to add a touch of glitter , or even small crystals if you feel inspired by the protagonists of Euphoria , without worrying that no one will look at you weird. Bring out the artist in you!Discover: Glitter eye makeup: ideas for your evening looks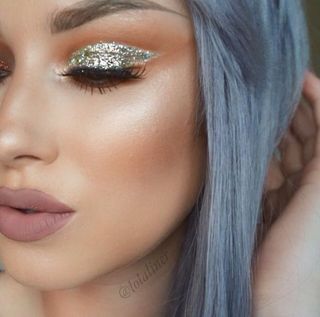 6. And don't forget the mascara
Marking the eyelashes is a totally essential step in any type of makeup, so we cannot forget about them under any circumstances. A trick to give your look a different touch? After applying your favorite mask, apply a glitter top coat , nobody will be able to take their eyes off your eyes!
7. Lipstick never fails
Red lips are the equivalent of smoky eyes , they are always going to be a good choice. If you also want the color to last all night, choose a long-lasting lipstick, preferably matte, and seal it by applying translucent powder with a brush and a tissue. Super trick!
8. The always perfect manicure
If there are no rules in makeup, even less in manicure ! So if you want to go out of the classic red or maroon, you just have to opt for the most original and fun nail arts . We leave you a few to inspire you.Discover: Celebrity nail art – get inspired by famous manicures!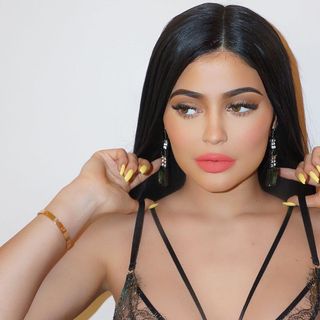 9. Innovate with your party hairstyle
There is no better companion to your party makeup than a beautiful hairstyle. In addition, if you want to give your hair a different look without having to go through the hair , you will only have to invest in a jewel headband or hairpin . They are one of the trends of the season and will give you a touch of sophistication immediately.
10. And ALWAYS remove your makeup when you get home
No matter how tired you are, it is important that you always remove your makeup and clean your skin well before going to sleep . Think that dedicating a few minutes to your face will make you wake up the next day looking much better, because not doing so implies sunrise with congested pores, makeup remains on the pillow and some other granite as a gift.