Choosing a perfume can be as complicated a task as choosing the haircut or color that suits us the most. And, as with our hair, we want a fragrance that represents us and with which we feel comfortable on our skin. Smells, like people, have their own personality and are capable of evoking specific feelings and moments. Do you want to know what your perfume says about you? We tell you what each of the olfactory groups represents.
Index
The smell of a person tells us a lot about them. And the fragrance that a person opts for is capable of giving us many clues about their personality. Do you want to know what yours is transmitting to others? We give you the keys to what your perfume represents.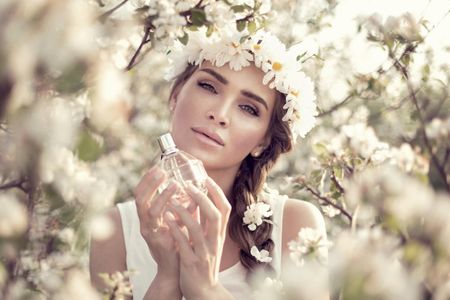 Musk-based perfumes
What Kind of Woman Are You : As a diva from Hollywood's golden years, you're mysterious, curious, and always one step ahead of everyone else. You are like a modern version of Rita Hayworth: confident, provocative and classy.

What is your style : You are elegance personified. You like to bet on accessories from another era, such as long gloves or fur stoles , and you adore vintage pieces.

How you behave in love : You are a hopeless romantic. When you choose a man you look only at sentimental reasons, and you don't care exactly about his job, his status or his checking account.
Floral perfumes
What kind of woman are you : Floral scents are created for happy, independent women with a vitality capable of infecting everyone. They are usually strong women who make their powerful attractiveness felt wherever they go. A woman of these characteristics does not leave the choice of her perfume to chance. Your careful choice will lead you to search for an ultra feminine scent that doesn't just focus on one flower. You will choose a charming bouquet that will transport you to a real garden. " TOUS Floral Touch " is her perfume. Created from the combination of different white flowers with hints of fresh jasmine.

What is your style: When it comes to dressing, they opt for effortless chic, that is, a relaxed and simple style but at the same time elegant, since they know how to perfectly combine basic garments with other more powerful ones so as not to fall into stridency.

How you behave in love : Women who wear floral perfumes are people who like to take care of themselves and their environment. Fresh bouquets, pretty shoes, and nicely decorated houses are three of her favorite things. They are very demanding, but when they fall in love they give everything for the other person. They like to enjoy and give little whims to their loved ones. How could she not indulge herself when choosing her perfume?
Fresh perfumes
What kind of woman are you : Women who wear fresh scents are vibrant and charming, and just like this type of scent, you never tire of them. They are welcome wherever they go, as they are the soul of any party and one of the most beloved people in their personal and work environments.

What is your style : They always follow fashion trends, and perfectly combine low cost garments with other more luxurious ones. They would be able to impress Anna Wintour herself.

How you behave in love : A woman who chooses a fresh scent as a perfume is a totally reliable person and who will be there whenever you need her. With his partners, he always goes out of his way for the other, but without losing his individuality.
Fruity perfumes
What kind of woman are you : Fruit girls will be the perfect companions in any adventure. They are always ready for a party, a different plan or an unexpected trip. They are carefree, funny, and restless, making them the perfect member of any group of friends. They do not take themselves too seriously, so they are capable of laughing even at themselves.

What is your style : They love the boho style, so they always tend to opt for maxi dresses, patterned skirts and loose and comfortable tops.

How do you behave in love: They are quite fickle and tend to tire quickly of their partners, as they fall in love and fall out of love with astonishing ease. Whoever wants to conquer it must wait until, as with fruits, it is ripe and at the optimal moment to be bitten.
Classic perfumes
What kind of woman are you : Like their perfume, they are timeless, delicate and refined women. They are seductive, passionate and terribly mysterious, like the bergamot and neroli notes they leave behind. Lovers of the good life and luxury, they never despise a good dinner, a good wine or a leisure trip.

What is your style : A brush is always made and does not conceive of imitations in fashion. If you can't afford it, don't take it. From a poorly finished bag to a poorly sewn blazer, they are capable of detecting an imitation from a kilometer away, and they are not afraid to give you away.

How you behave in love : They are self-sufficient and do not need a partner to feel complete. Anyone who is not up to the task, it is better not even try.
Woody perfumes
What kind of woman are you : Woody perfumes are not for everyone, and the women who wear them are brave, willing, and very self-confident. They like to explore new terrain and possibilities, they are always ready to face new challenges and they care little about what others think of them.

What is your style : They have a unique style that many try to imitate but few wear with style. From ripped jeans to basic t-shirts, they are able to bring their touch of elegance to any garment.

How do you behave in love: Your interests are varied and different, and the people around you will always discover new things, be it a music group, a restaurant or a play. Your ideal match should be like your perfume, and include notes of tobacco and leather. He is down to earth and always likes to be proactive.
Sweet perfumes
What kind of woman are you : They are ethereal and addictive women. They are upbeat, funny, and can easily become the center of attention. Sometimes they can be somewhat childish and spoiled, but they are defects that they know how to perfectly compensate with their charisma.

What's your style : They love bows, lace, and XXL jewelry. Her style of dress is like her personality, based on pieces that do not go unnoticed and that you either adore or hate.

How you behave in love : Their childish attitude can be a problem for their partners, but if they find a partner with the same touch of madness, the relationship will go smoothly.
What perfume to choose?
Whether you are one of those who prefer floral aromas, or woody fragrances are your thing, the important thing is to choose a unique and long-lasting perfume that perfectly represents your personality and that its scent stays on your skin for hours. Our recommendation? The Tous Touch line .

Since the launch in 2006 of the first fragrance in the line, the eponymous perfume, this range has grown encompassing different olfactory families, and adding fruity, floral, sweet, musky and even somewhat woody touches , but without losing that freshness and lightness that characterizes to the signature perfumes, nor that classic style.

Now add a new member to your family with " TOUS Floral Touch ", a perfume in which white flowers coexist with sandalwood, nectarine and white musk, creating a perfect balance that will delight all types of women.
And you, which olfactory group do you prefer?


And also :
Essential toiletry bag to survive a first date
Beauty quirks that you shouldn't give up